Kitten rescue: Girl risks life & limb to retrieve cat from busy main road in St Pete (VIDEO)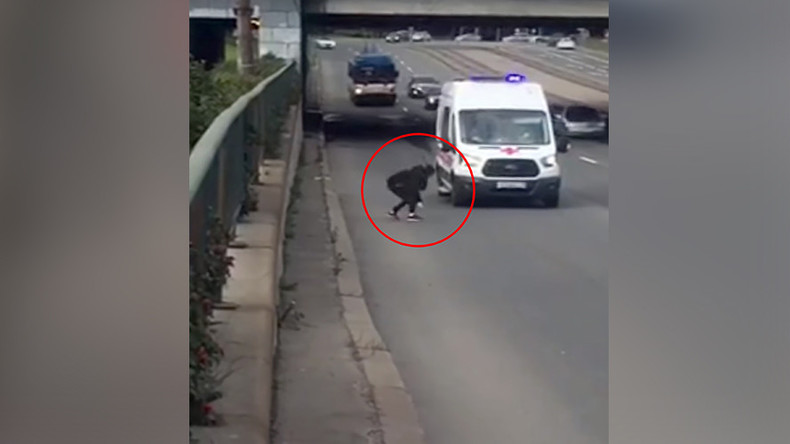 A student from a Saint Petersburg college risked her live to save a terrified kitten wandering on a busy highway. The rescue operation saw drivers of a passing ambulance and a trolleybus pulling over to help get the kitten to safety.
A video obtained by RT's Ruptly agency shows the student, identified as Aida Suleymanova, climbing over a safety fence separating the roadside from a multi-lane highway as she follows a white-and-black kitten.
Aida gestures vigorously, trying to warn the passing drivers off the helpless feline until an ambulance stops. However, the wayward kitten immediately hides under the vehicle, refusing to come out.
It took the joint effort of the driver of the ambulance, a trolleybus driver and the students to finally evacuate the forlorn kitten.
"On our way from college my friends and I spotted a kitten on the road and embarked on a rescue mission. Ambulance and a trolley bus driver helped us with that. The world is not without kind people," Aida wrote in a post on the Russian social network VK.
READ MORE: Nerve-shredding footage shows tiny kitten cheat death on busy Russian highway (VIDEO)
She later revealed in comments on YouTube that the kitten found a new home as an acquaintance has agreed to adopt it.
After the video was published, the student's move received online praise, but also raised some questions about the ambulance stopping. The ambulance crew later told media that they were returning to the station and were not carrying any patients at the time of the incident. The emergency lighting was turned on to alert the drivers of the passing vehicles, they said.