Nerve-shredding footage shows tiny kitten cheat death on busy Russian highway (VIDEO)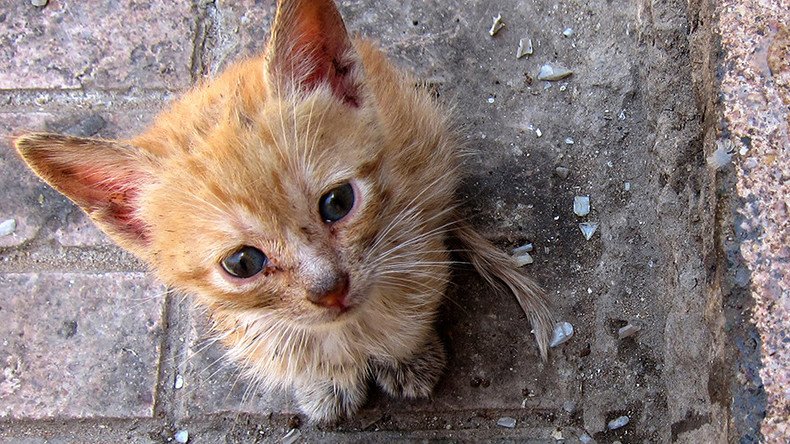 A helpless kitten may have used up one of its nine lives as it somehow avoided being run over by a succession of vehicles on a Russian highway. A Good Samaritan motorist, hailed as a "hero of our time," rescued the feline just moments before likely death.
The video, reportedly shot in the Russian city of Novosibirsk, Siberia, has been viewed more than 208,000 times since being uploaded to YouTube on Friday.
In footage lasting just a minute, a little kitten can be seen wandering off the sidewalk and onto the busy road, in front of a stopped car. Just as the traffic begins to move, the kitten can be seen being clipped by a seemingly oblivious driver.
A fellow motorist, and apparent cat lover, can be heard shouting as he runs from his car to save the little feline.
Many of the commenters on YouTube clearly found the experience of watching the cat's epic survival a stressful experience.
"My heart stopped," wrote one viewer, while another admitted, "I even cried." A third commenter admitted: "Cats really do have 9 lives!"
The driver who stopped to save the kitten was praised for his good deed: "This man is a hero of our time", "good exists in our world" and "well done, man" are a flavor of the comments.
Of course this isn't the only example of a kitten coming within centimeters of death on a busy Russian road. A similar incident occurred earlier this year.
Filmed on a busy on a Kaliningrad highway in September, some 17 cars and lorries come within a whisker of squashing a stranded kitten, which is seemingly unable to move, until a concerned motorist stopped to pick him up.
You can share this story on social media: