'I'm at mercy of hurricane': Dominica PM posts live updates as #Maria destroys his house (VIDEO)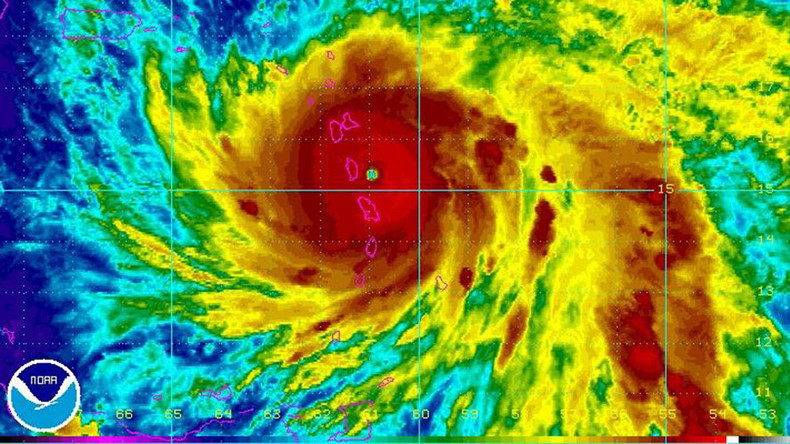 Dominica Prime Minister Roosevelt Skerrit posted live updates on Facebook as his Caribbean home was being destroyed by Hurricane Maria.
The category five storm lashed the island on Monday night. In a series of posts on social media, Skerrit relayed his own alarming experience of the devastating storm.
"The winds are merciless! We shall survive by the grace of God," Skerrit wrote as Maria pummelled the landscape.
READ MORE: Maria makes landfall in Dominica as a 'potentially catastrophic' Category 5 hurricane
Moments later he added that he could hear galvanized steel roofs being ripped off houses: "We do not know what is happening outside. We not dare look out."
Things escalated when Skerrit's own roof was claimed by the relentless gusts.
"I am at the complete mercy of the hurricane. House is flooding," he wrote.
The Facebook posts generated significant reaction online with many expressing concern for the prime minister and for others at the mercy of the storm.
"If the Prime Minister's roof is gone, can you imagine the folks whose houses are poorly built. Praying for everyone in DA. Stay safe," commenter Adohr Jagessar-Noel Omg said.
After the storm passed Skerritt posted a longer statement, giving an update on the situation on the ground across Dominica.
"Initial reports are of widespread devastation. So far we have lost all what money can buy and replace," he said.
"My greatest fear for the morning is that we will wake to news of serious physical injury and possible deaths as a result of likely landslides triggered by persistent rains."
The prime minister added that he suspects air and sea ports in the country will be inoperable for days, urging organizations and "friendly nations" with helicopter services to come to his country's aid.
"I am honestly not preoccupied with physical damage at this time, because it is devastating...indeed, mind boggling," he added.
The hurricane briefly weakened to a category four storm before regaining category five status, the highest grading on the Simpson-Saffir scale, in the early hours of Tuesday morning.
It is expected to move towards the US Virgin Islands and Puerto Rico on Tuesday night and Wednesday according to the US National Hurricane Center.
In their latest update the Miami-based center said the storm is about 325km (205 miles) southeast of the island of St Croix with sustained winds of 260kph.