Washington should switch from threats to dialogue on North Korea – Chinese envoy to US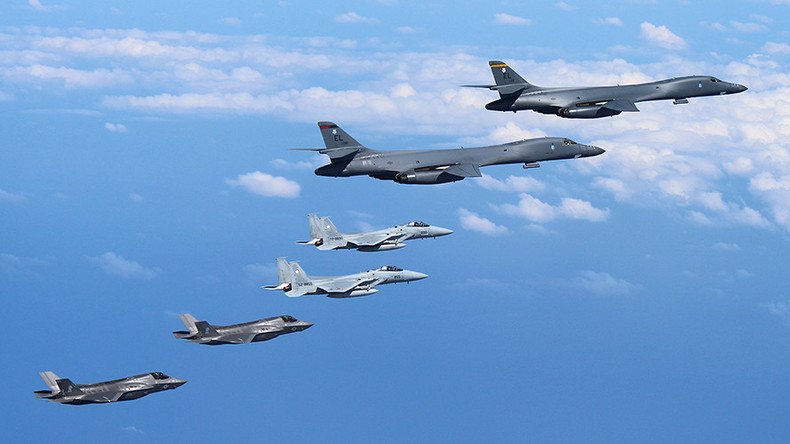 China's ambassador to the US has called on Washington to stop making continuous threats over North Korea and "do more" to build bridges of understanding and negotiation instead.
"Honestly, I think the United States should be doing… much more than now, so that there's real effective international cooperation on this issue," Ambassador Cui Tiankai told reporters at an embassy event on Friday.
"They should refrain from issuing more threats. They should do more to find effective ways to resume dialogue and negotiation," he said.
US Treasury Secretary Steven Mnuchin warned earlier this week that the US could impose economic sanctions on China if it does not implement the new sanctions regime against North Korea. The restrictions could involve cutting off China's access to the US financial system, Mnuchin said.
"North Korea economic warfare works," he said on Tuesday at the Delivering Alpha Conference in New York City. "We sent a message that anybody who wanted to trade with North Korea – we would consider them not trading with us."
Mnuchin went on to add that "if China doesn't follow these sanctions, we will put additional sanctions on them and prevent them from accessing the US and international dollar system."
The US, which runs a $350 billion annual trade deficit with China, has been reluctant to impose economic sanctions on China over concerns of possible retaliatory measures and the potentially catastrophic consequences for the global economy.
READ MORE: North Korea seeks to establish 'equilibrium of force' with US – Kim Jong-un
On Monday, the UN Security Council unanimously approved a new resolution on sanctions against North Korea over its sixth and most powerful nuclear test, conducted on September 3. While the Security Council agreed not to ban oil exports into North Korea, the ninth round of sanctions since 2006 authorized an annual cap of 2 million barrels of refined petroleum products to North Korea. It also banned North Korea's textile exports (the second-biggest export for the country) which totals over $750 million each year, according to data from the Korea Trade-Investment Promotion Agency. Chinese and Russian negotiators managed to persuade the US delegation not to impose a travel ban or asset freeze on North Korean leader Kim Jong-un.
North Korea's ambassador to Russia made it clear that sanctions will not make Pyongyang change its policies. He added that North Korea's nuclear program will help his country better deter the "hostile policy of the US."
"We have lived under US sanctions for decades. Under the harshest of sanctions. But we have acquired everything we wanted to. If the US hopes that our position would be shaken and changed, that is an illusion," Kim Yong-jae told Russian media on Tuesday.
After North Korea conducted its sixth and most powerful nuclear text in early September, US President Donald Trump warned that Washington is considering "stopping all trade with any country doing business with North Korea."
China, which would be drastically affected if the US were to cut trade ties with it (the US imports about $40 billion in goods per month), said the measure would be "unacceptable" and "unfair," adding that Beijing cannot be the sole player in resolving the North Korean crisis.
"What is definitely unacceptable to us is that on the one hand we work so hard to peacefully resolve this issue and on the other hand our interests are subject to sanctions and jeopardized," Foreign Ministry spokesperson Geng Shuang told a news briefing, as quoted by AP. "This is unfair."
In July, Beijing and Moscow proposed a 'double-freeze' plan, which would see North Korea suspend its missile launches and nuclear tests in exchange for a halt in joint US-South Korea military drills, which Pyongyang perceives as the "most explicit expression of hostility." That roadmap, however, was promptly rejected by Washington, with State Department spokesperson Heather Neuert stating last month that the US is "allowed" to conduct exercises with its ally and "that's just not going to change."
You can share this story on social media: