Kremlin slams German weekly for calling Putin 'dog' in its article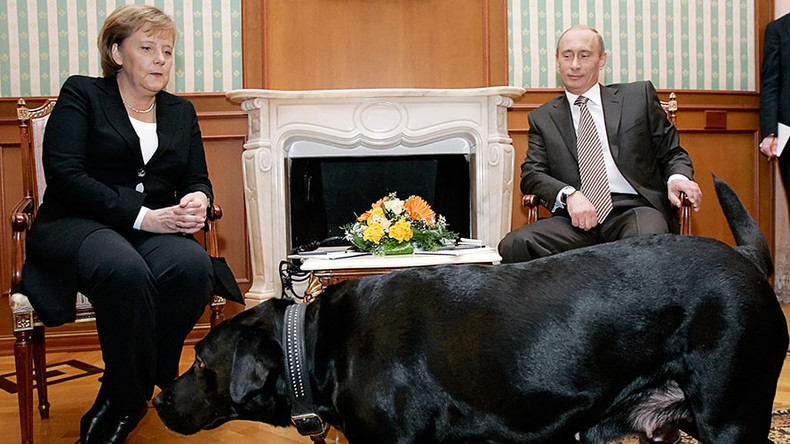 Any insult to the President of Russia is "unacceptable," Kremlin spokesman Dmitry Peskov has said while responding to an article published in Germany's Focus magazine, in which Vladimir Putin is referred to as "a dog."
Russia's presidential spokesman went on to say that such insults ultimately damage the reputation of the media itself, adding the Kremlin does not pay much attention to Focus magazine.
"The fact is that this media outlet is well known for its extreme subjectivity," and not considered a "noteworthy source," Peskov said. He added that, in the case of Russia, this subjectivity "is mostly based on extreme Russophobia."
READ MORE: Western media coverage of Russia gives journalism a bad name
Moscow's angry reaction was provoked by an article titled "50 reasons for Merkel/50 reasons against Merkel" published in the magazine issued on September 9.
"Even though she [the German Chancellor Angela Merkel] is afraid of [the Russian President Vladimir] Putin's dog, she is not afraid of the dog Putin," reads the offensive part referring to the Russian leader.
The issue was initially raised by the head of press service of the Russian embassy in Berlin, Denis Mikerin. "There are still red lines [that should not be crossed]," he wrote in a post on his Facebook page that featured a photo of the inflammatory piece published in Focus.
"There are things that have nothing to do with the freedom of expression or the media freedom and are by no means tolerable," the diplomat said in his post, expressing hope that the insult aimed at the Russian president was "nothing more than unfortunate linguistic passage of a journalist."
He also called on Focus editor-in-chief, Robert Schneider, to apologize for "this apparent fail" of his editorial office.
The Russian embassy in Germany also flagged the issue on its official Twitter account.
"Focus [editors] believe it is provocative. Is it? No. Tasteless and plain stupid? Definitely," the embassy tweeted, challenging the German government's spokesman Steffen Seibert to respond to the incident.
However, neither the German government nor Focus magazine responded or offered an apology. Instead, the media outlet said on Twitter there was nothing insulting in its article, just "ironic wordplay."
"The word "dog" is basically a wordplay, which was intended to be ironic. It means "tough nut." It was not intended to be derogatory," the tweet said.
Later Wednesday, Schneider eventually contacted Mikerin to comment on the issue. However, his 'explanation' was similar to the magazine's earlier statements, restating that the insulting phrase featured in article was nothing but "ironic wordplay."
"It does not meet our expectations of a normal parity-based, respectful and responsible dialog," Mikerin responded.
The embassy still regards the whole situation as "an unfortunate incident" that, however, still requires "concrete steps on its settlement, i.e. a formal apology from the Focus editorial office," Mikerin said in a Facebook post.
READ MORE: Doggie diplomacy: Putin denies tall 'tail' of letting lab loose on fearful Merkel
Putin is a well-known dog lover, and has been given multiple pups as gifts since first becoming president in 2000. The Russian leader has also, on several occasions, brought his pets out to meet some of his high-level guests.
The incident Focus was referring to happened in 2007 and involved Putin's beloved labrador retriever Konni, who died in 2014.
At that time, the dog was thought to have intimidated Merkel during her meeting with Putin, as the chancellor has a fear of dogs. Putin said he had no idea about the German Chancellor's canine phobia, and apologized.
Focus article criticized in Germany
Focus' scandalous piece provoked a wave of indignation not just from Russian officials but also from Germans, who turned to social media to express their disgust with the article.
"I find it absolutely tasteless even to speak about a president in such a way, let alone to write [something like that]. It is good that I do not read Focus," one person wrote in his Twitter post.
"Focus is just like Bild – a good-for-nothing newspaper for those, who fancy themselves people of education…" another person said.
"Focus was always idiotic unlike other our [German] newspapers that started writing nonsense only about 10 years ago," one more Tweet reads.
Another tweet read: "I thought actually that the so-called "quality media" cannot fall any lower. However, there is apparently still enough space below."
"That is a really MINDLESS [move], even for a pro-American newspaper," another person said.
Some people drew attention to the fact that the government and media "do not represent the opinion of the people."
Others condemned the Focus's choice of words by defining it as "hate speech."
One of the magazine's journalists, Jan Schaefer, seemed to be particularly active in defending the paper's stance. "Druschba! [Friendship!] Even the Kremlin reads the Focus magazine!" he wrote, posting a link to an article by RT Deutsch that reported on the Russian embassy's angry reaction to the provocative piece by Focus.
He then went on to say that there is nothing wrong with the word "dog.""Is a dog in Russia something bad? In Germany, it is the most loved pet. Putin apparently brought his dog out [to meet] Merkel for the very same reason, or?" he wrote.