Italy moves to ban all Nazi symbols, including souvenirs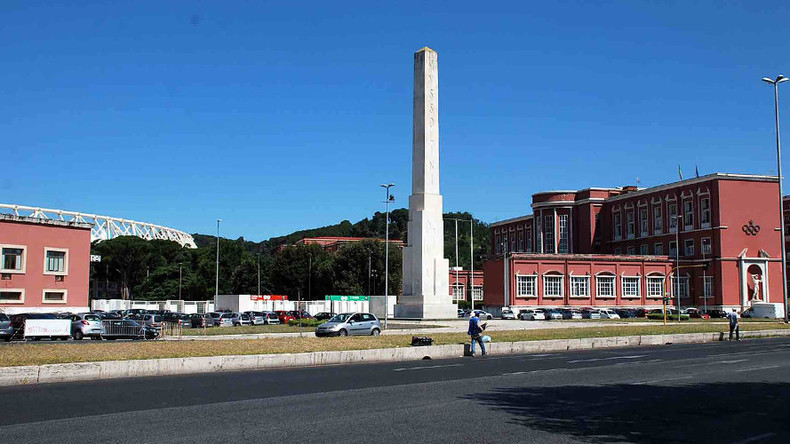 Italian lawmakers have approved a bill which bans Nazi propaganda and symbols. Stores which sell fascist-themed calendars, posters, T-shirts and medals, as well as those who call for marches in memory of fascist dictator Benito Mussolini, may face prison sentences.
The bill bans "the propaganda of images or manifestations of the fascist party or Germany's National Socialist German Workers' Party [the Nazi party] or its ideologies, even only by means of the production, distribution, dissemination or sale of goods depicting people, images or symbols clearly referring to such parties or ideologies."
The bill, introduced in July, sets the punishment as a prison term of between six months and two years.
261 lawmakers in the Italian Chamber of Deputies, the lower house of parliament, said 'yes' to the bill, while 122 voted against it, according to Italian newspaper L a Repubblica. It will now have to gain approval from the Senate to become law.
The legislation won't target "art or architecture,"said one of the bill's advocates, Emanuale Fiano, a Chamber member for the centre-left Democratic Party of Italy on Facebook.
"I am opposed to the destruction of 1920s monuments or buildings and to iconoclastic measures of any kind," Fiano wrote, adding that the law doesn't aim to destroy the Benito Mussolini Obelisk in Rome, which bears the dictator's words "MVSSOLINI DVX" (Mussolini, the Leader).
Yet the public was divided over the anti-fascist law, with some praising the bill, while others saying that it will "kill liberty."
"Ideologies of hate and intolerance can be reborn; they are not folklore. The Fiano Law is necessary and contemporary, it defends democracy and liberty," Ettore Rosato, a senior Democratic Party (PD) centre-left MP, wrote on Twitter.
Le ideologie d'odio e di intolleranza possono rinascere, non sono folklore. Legge #Fiano necessaria e attuale, difende democrazia e libertà

— Ettore Rosato (@Ettore_Rosato) 12 сентября 2017 г.
The law was "a folly, designed to kill liberty," Giorgia Meloni, president of the national conservative Brothers of Italy party, responded.

Italy is desperately trying to rid the country of any traces of fascism. Earlier in September, Italian politicians called on the Interior Ministry to prevent a march taking place on the anniversary of Mussolini's rise to power. The Italian far-right Forza Nuova party called for the demonstration on October 28th.
In July Venice authorities ordered a beach venue to remove all fascist banners and posters praising Mussolini, the founder of Italian Fascism, and his policies. The signs at the property reportedly included a threat of "a truncheon in the teeth" if customers didn't pay for services.
READ MORE: Fascist Mussolini-style posters ordered removed from Italian beach venue (VIDEO)
In February a school in Rome was forced to call off a Grand Fascist-Era Ball less than 24 hours after announcing the event following complaints from parents.
READ MORE: Italian school cancels fascist-themed ball after public outcry
Yet a nationwide survey from 2016 shows that Italian school kids named Hitler's 'Mein Kampf' among the top 10 books.
Italy was under Fascist rule from 1922 until 1943, with Mussolini at the helm. The Fascist leader, his mistress and several other leading fascists were summarily executed in late April 1945, two days before Germany's Nazi leader, Adolf Hitler, committed suicide.