Mussolini's hidden fascist message to future generations under Rome obelisk revealed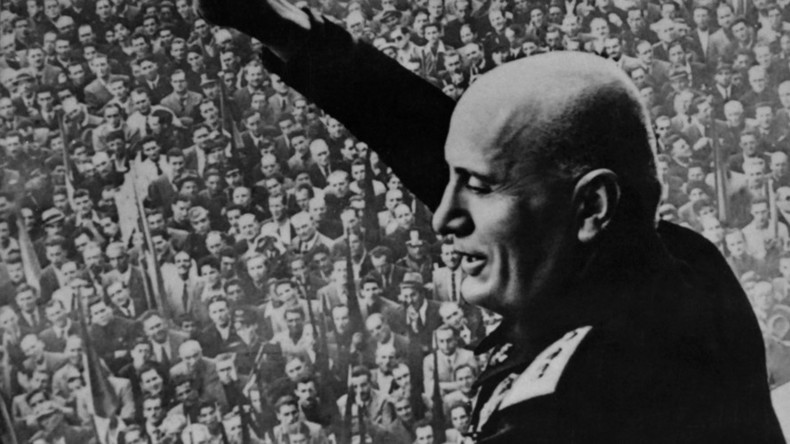 Former Italian leader Benito Mussolini left a hidden message for future generations to discover - and now two scholars believe they know what it says.
Concealed beneath the 300-tonne Mussolini Obelisk in Rome, the parchment was intended to write future history books with the legacy of his fascist regime.
The existence of the 1,200-word text called the Codex Fori Mussolini was known, but it is thought to be impossible to remove the metal box holding the message and some gold coins without damaging the monument.
However, a pair of curious academics have now pieced together what they say are the contents of the Codex by studying documents they found in a number of libraries and archives in Rome, according to the BBC.
Written in Latin by the classical scholar Aurelio Giuseppe Amatucci, the eulogy is reportedly in three parts and "presents Mussolini as a kind of new Roman emperor, but also, by using biblical language, as the savior of the Italian people," according to Han Lamers, one of the researchers involved.
The first part offers a history of the rise of Fascism and of Mussolini himself, describing how he brought Italy back from the brink following World War One "through his superhuman insight and resoluteness."
The second section details the workings of the Fascist Youth Organization, where the obelisk was supposed to be headquartered.
The third part describes the construction of the obelisk and the Foro Italico sports complex where it is located.
@BBCWorld Whatever it says,did it offer solution & remedy facing d future? Only then probably people like me will care about what it says

— Joe Onyii (@JoeBuenasDias) August 31, 2016
In addition to the message and gold coins, it's also claimed there is a medal which shows Mussolini with a lion skin over his head.
Scholars believe the eulogy was written in Latin to create a stronger link with the Roman Empire and the rise of fascism, so as to shape how future generations would view the time.
"The text wasn't meant for contemporaries at the time," Dr Bettina Reitz-Joosse, who works at the University of Groningen, told the BBC. "The obelisk was a major spectacle but the existence of the text wasn't reported at all. It was meant for an audience in the remote future."