US greenlights $5.2bn sale of Super Hornet jets to Canada amid Boeing trade row with Bombardier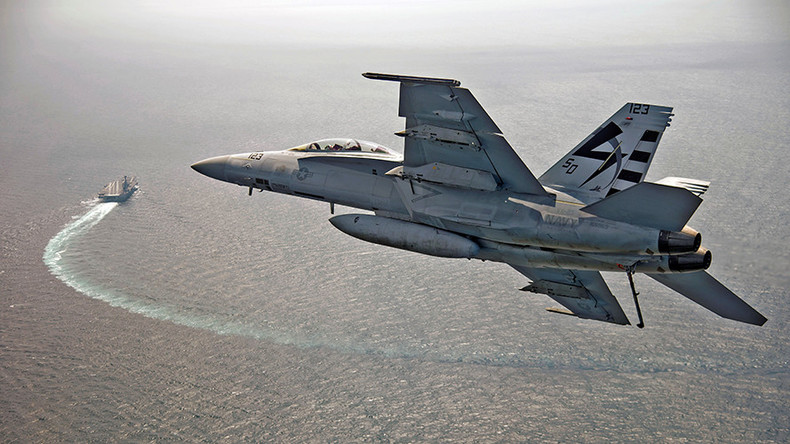 The US State Department has authorized the sale of 18 F/A-18 fighter jets to Canada, a stopgap acquisition Ottawa needs to maintain its air force capability. But the deal may be derailed by a row Super Hornet-maker Boeing has with Canadian firm Bombardier.
The Canadian government requested permission to purchase Super Hornets last year. Its military says it needs additional fighter jets because otherwise it won't be able to meet its commitments as part of NORAD and NATO.
The single-source acquisition was pitched as a stopgap measure until Canada is able run an open competition to replace its fleet of CF-18 fighters, the Canadian version of the F-18 Hornet, a process that may take as long as five years, Canada estimates.
The US State Department on Tuesday authorized the planned sale of the Super Hornets. The Pentagon's Defense Security Cooperation Agency, gave details of the planned deal, which it estimates to cost $5.2 billion. The purchase list includes 10 F/A-18Es, 8 F/A-18Fs, spare engines, weapons, equipment, maintenance and training.
"This proposed sale will contribute to the foreign policy and national security objectives of the United States by helping to improve the security of a NATO ally which has been, and continues to be, a key democratic partner of the United States in ensuring peace and stability," the agency said in a statement.
The potential deal could be marred by a row that Boeing, which produces the warplanes, has with Canadian plane manufacturer Bombardier. In April, Boeing filed a complaint against its competitor, claiming that the Quebec-based firm used subsidies from the government to sell its C-Series jets in the US market at dumping price.
The Boeing complaint claimed Bombardier sold American Delta Airlines 75 CS100 aircraft for $19.6 million, despite manufacturing costs of $33.2 million. US trade regulators are expected to announce a preliminary decision on the case on September 25, CBC News reported.
British government became entangled in the conflict, siding with the Canadians. Bombardier is the largest manufacturing employer in Belfast, Northern Ireland, providing some 5,000 jobs there. The region is where the Democratic Union Party is based, the support of which allowed Prime Minister Theresa May to form government after the snap election in June.
Canadian officials have criticized the Boeing complaint and warned that Ottawa was reviewing current military procurement deals relating to the company. Foreign Minister Chrystia Freeland's office said the complaint was "clearly aimed at blocking Bombardier's new aircraft, the C Series aircraft, from entering the US market."
Defense Minister Harjit Sajjan mused that Ottawa may seek purchase of interim fighter jets elsewhere.
"In light of Australia recently notifying all allies about their intent to dispose of their F-18 fleet, Canada visited them to inquire about the state of their equipment and spare parts," Sajjan's office said in a statement last week.
Boeing reacted Tuesday to the authorization of the Super Hornet deal, saying it was "encouraged by the US Government's support for this important capability in the defense of North America."
You can share this story on social media: