'We lived in fear & horror': Deir ez-Zor residents slowly return to normality after ISIS siege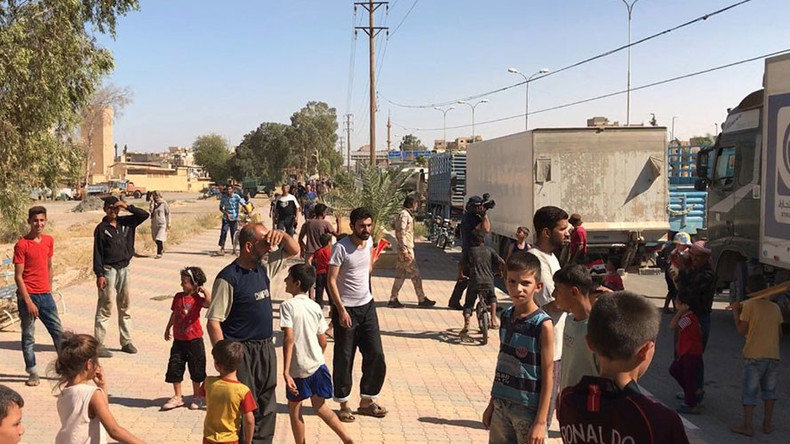 Life is slowly resembling some kind of normality for the residents of Deir ez-Zor following years under the yoke of Islamic State terrorists. Humanitarian convoys with much needed aid finally poured into the city after a joint Syrian-Russian offensive broke the blockade.
At least nine heavy trucks carrying food and humanitarian aid reached the city Monday, Sana reported. The aid was immediately distributed to families in the eastern and western neighborhoods of Deir ez-Zor and the neighboring village of Jafra. It is among the areas which have suffered from severe food shortages during the ISIS-imposed siege.
Up to 125,000 civilians had been trapped in the oil-rich provincial capital for over two years, with jihadists effectively blocking commercial and humanitarian access to the city. Residents have been mostly reliant on airdropped aid by the UN, Russia and the Syrian government.
"We were suffering from hunger, thirst, and exhaustion... We also suffered from the lack of water and electricity," one local resident told RT. "We're grateful to the army, long live the army! We're grateful not one hundred, but one million percent."
"We lived in fear and horror. Shells were raining down on us. The situation is better now, thank God," local woman added.
"I was collecting herbs [for] the cow in the fields – this is for us to survive. We had no shelter in Jafra and we came here to Joura; you know, the situation was difficult, and we have to survive," another another woman told RT.
In addition to Damascus and Moscow, who are leading the humanitarian efforts to the newly liberated parts of the city, the Syrian Arab Red Crescent (SARC) also sent a humanitarian aid convoy to Deir ez-Zor.
The benefits of the humanitarian corridor are already being felt by relieved residents of the city.
"When we were living under the blockade, we had no cucumbers, tomatoes, apples or potatoes. We have all that now, thank God, we get groceries and food boxes from the Red Cross, we're very grateful to them," Abdullah, a local resident told RT.
READ MORE: Russia rushes humanitarian aid to exhausted Deir ez-Zor after breaching 3yr ISIS siege
"When we were living under the blockage, we couldn't go out onto the streets either, because there were shells falling everywhere. I'm very happy that the blockage has been lifted," Abdullah added.
Food prices, previously dictated by the black market, have also begun to return to normal as the food flows in.
"Everything was expensive, a kilo of sugar used to cost 5,200 [Liras], I bought it, and I bought a kilo of tea for 35,000, and we bought the wood for 350 or 400 [Liras per kilo]," a female resident of the city noted. "Thank God, we and Deir ez-Zor are finally released, we are happy after the siege of ISIS, which lasted for 1,040 days – we were really traumatized during this siege."
"The main concern was to get rid of ISIS. This was the most important thing. As soon as we got rid of ISIS, the road was opened, and food and good things came. Thanks to Mr. President for the aids he offered for the sons of Deir ez-Zzor," noted another local.
However, and amid the euphoric reception of the humanitarian aid, it is not enough, and much more relief and support is urgently needed. On Monday, Russian Defense Minister Sergey Shoigu sent a letter to UN envoy for Syria, Staffan de Mistura, urging the UN to speed up efforts as people across Syria need more than 1,000 tons of food and also over 80 tons of medicines.
Read more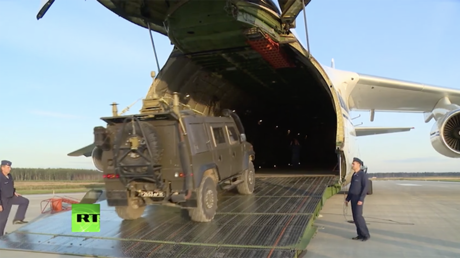 Shoigu also called on de Mistura to "immediately step up humanitarian assistance in the framework of the United Nations and humanitarian organizations and take an active part in restoring the destroyed houses, schools, hospitals and infrastructure facilities."
Pointing out that Russia "consistently" provides aid to the Syrian people, Shoigu also noted that Russian soldiers are currently engaged in mine clearing efforts aimed at "restoring peaceful life."
The minister's letter also expressed concern over the humanitarian situation at the Al Tanf and Akerbat refugee camps where some 60,000 Syrians are currently housed. Shoigu also called on the need to create conditions to ensure that hundreds of thousands of Syrian refugees could return home as soon as possible.
Last Tuesday, Syrian Army forces made the final push to break the siege of Deir ez-Zor following Russian cruise missile strikes on IS. Syrian government forces then broke the IS siege of the military airport on September 9. Anti-terrorist operations, however, are continuing in the region.