Russia rushes humanitarian aid to exhausted Deir ez-Zor after breaching 3yr ISIS siege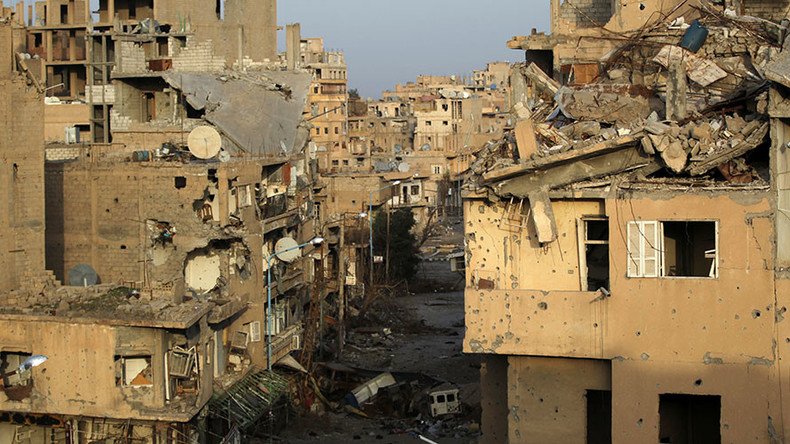 The Russian Center for Reconciliation of Opposing sides in Syria is urgently sending humanitarian aid to Syria after Deir ez-Zor was finally liberated from a three-year siege by Islamic State, bringing relief to thousands of civilians.
Among the supplies the Russian Defense Ministry is to deliver are food aid and living essentials, including water purification stations, portable diesel generators, medicine and bottled water, according to the agency's statement.
Medical aid teams will shortly visit citizens of the recaptured city, where Islamic State (IS, formerly ISIS/ISIL) militants destroyed nearly all the infrastructure over the years of blockade.
Deir ez-Zor has been left with basically no functioning commodities. Electrical substations and water supply facilities were blown up, and schools and hospitals were torn down. All the businesses, residential, administrative and industrial buildings are shut down, and squares and children's facilities were mined by jihadists as they retreated.
To return the retaken areas of the city to normal existence as soon as possible the center's specialists are assessing the extent of humanitarian aid needed, as well as evaluating essential objects, such as electric stations, medical units, water facilities and bakeries.
READ MORE: RT inside ISIS-besieged Deir ez-Zor: Daily struggle for food, soaring prices, glimpses of hope
In the meantime, Syrian engineers, trained in the international mine action center in Russia, will receive additional means to detect explosive objects and de-mine the city.
On Tuesday, Syrian Army forces broke the siege of Deir ez-Zor following Russian cruise missile strikes on IS, allowing the troops' successful advancement.
The missiles hit the terrorists' fortified areas, including artillery positions, armored vehicles, ammunition storages and a communication center.
READ MORE: Tunnels, guns & abandoned tanks: Secrets of ISIS stronghold revealed in Deir ez-Zor (VIDEO)
Up to 125,000 civilians were trapped in the oil-rich provincial capital for nearly three years, with jihadists effectively blocking commercial and humanitarian access into the city. The occupied residents have been mostly reliant on airdropped aid by the UN, Russia and the Syrian government.
You can share this story on social media: