8 dead in Livorno, Italy as storm dumps month's worth of rainfall in just four hours (VIDEO)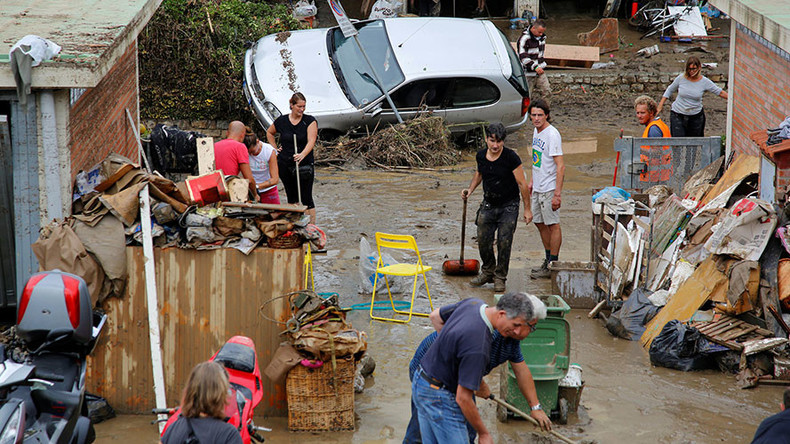 Eight people have died and hundreds of homes left without power after a storm dumped double the monthly rainfall on the northern Italian city of Livorno, according to local media.
The Mayor of the Tuscan city, Fillipo Nogarin, tweeted that around 290 homes were still without power Monday, down from 2700 the day before.
Tuscany President Enrico Rossi said a state of emergency would be declared in the area tomorrow, with an initial €3 million being put into the recovery budget, according to La Repubblica.
Freelance journalist Alessandro Barabino posted pictures of the damage to the Three Bridges area of the city.
The local government had issued an 'orange alert' ahead of the storm, but after 40 centimeters (1.3ft) of rain fell in just four hours over the weekend, questions are being asked why the alert had not been upgraded to 'red.'
Nogarin shrugged off the criticism, writing on Twitter: "Let's get some clarity and stop these controversies that don't help anyone."
Four members of the same family were killed after their basement flat flooded during an intense period of rainfall, transforming the streets and surrounding areas into rivers and lakes. A four-year-old boy was among the victims.
The grandfather of the family is reported to have saved a three-year-old family member before being overcome by the floodwaters.
READ MORE: Richard Branson's private island 'completely devastated' by Hurricane Irma (PHOTOS, VIDEO)
The latest victim, Martina Bechini, was found by police along the river D'Ardenza after her home was engulfed by water in Via Garzelli, southeast of the city. The body of her husband, Filppo Meschini, had been found earlier, two kilometers away their home, according to Livorno local il Tirreno.
Nogarin also announced a period of mourning during which flags will be flown at half-mast over municipal buildings until the funerals of the victims have taken place.
Rome was also badly affected by flooding after the storm moved southwards Sunday, with the Italian capital sustaining as much as 10 centimeters of rain in just three hours.
Heavy flooding sparked traffic chaos and flights disruptions as well as landslides in the surrounding areas. Rubbish skips were also reportedly seen floating past the Roman Colosseum, one of the city's most famous historical landmarks.
Critics claimed the effects of the storm were exacerbated by the lack of clear storm drains across the city.
The weather alert for the city remains on orange for the next 24-36 hours as city council chiefs hold emergency meetings to discuss the state of the River Tiber.
Italy had been suffering from sweltering hot conditions this summer, with droughts reported in areas all across the country. Conditions had been considered so severe that the city of Rome was forced to shut off its famous public water fountains.