China lodges protest with S. Korea over deployment of THAAD launchers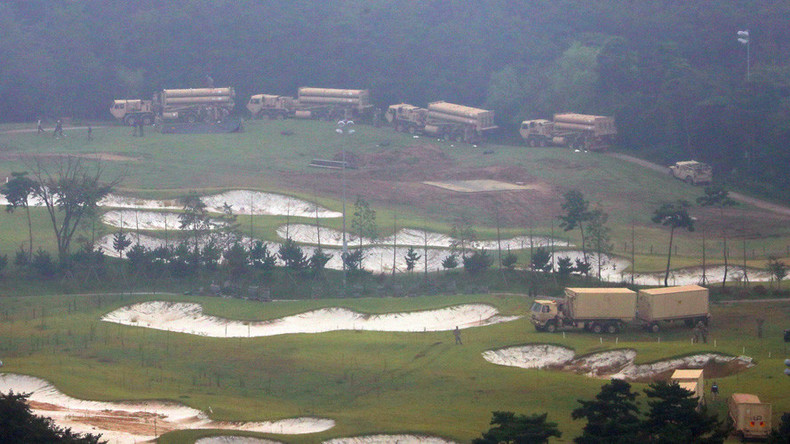 China has lodged a stern protest against South Korea over the deployment of four additional Terminal High Altitude Area Defense (THAAD) launchers, according to the foreign ministry.
The comment was made by Foreign Ministry spokesman Geng Shuang during a regular press briefing on Thursday, according to Reuters.
It comes just one day after Geng said that China "expresses serious concern" over the decision to deploy the additional launchers, adding that such a move can "in no way address the security concerns of the relevant countries" involved in the North Korean standoff.
Instead, it will "only severely undermine regional strategic balance and jeopardize the strategic security interests of China and other regional countries.
"Moreover, it will exacerbate the tensions and confrontation on the Korean Peninsula and complicate the Korean Peninsula issue," he said on Wednesday.
Geng also said that China urges the US and South Korea to "immediately stop the relevant deployment and remove the relevant equipment."
South Korea deployed the four additional THAAD launchers to the US Forces Korea (USFK) base in Seongju early Thursday, just four days after Pyongyang launched its sixth and most powerful nuclear test.
The decision to deploy the launchers prompted some 400 protesters to turn up in front of the administrative building in Seongju. Thirty-eight people, including six officers, were injured during scuffles between police and demonstrators, a fire department official in Seongju told AP.
Four civilians also tried to cross the fence of the THAAD site before being arrested and taken to Kimcheon police station for investigation.
Authorities eventually managed to quash the unrest a few hours before the THAAD launchers arrived to the USFK base.
The THAAD system, designed to shoot down short- and intermediate-range ballistic missiles, has long been a source of controversy. Some South Koreans claim it will have negative health and environmental impacts. Others say the system will cause Seongju to become a prime target for North Korean attacks.
The South Korean government has called the Thursday deployment "provisional," acknowledging that an additional environmental impact assessment of the THAAD system is needed.
The decision to deploy the four additional THAAD launchers comes amid increased threats from North Korea, which shows no signs of ending its nuclear or ballistic missile tests, warning on Tuesday that more "gift packages" are on the way if the US continues its "reckless provocations."
Pyongyang's Sunday nuclear test prompted US President Trump to respond by saying that Washington was considering cutting trade with countries that do business with Pyongyang.
The US is also pushing for the United Nations Security Council to impose an oil embargo on North Korea, ban its exports of textiles and the hiring of North Korean laborers abroad, and subject leader Kim Jong-un to an asset freeze, according to a draft resolution seen by Reuters on Wednesday.
Nikki Haley, the US ambassador to the United Nations, said she wants the 15-member council to vote on the resolution on Monday. However, Russia's UN ambassador Vassily Nebenzia said a Monday vote may be "a little premature."
Meanwhile, Russian President Vladimir Putin has warned that the North Korean crisis cannot be solved "by sanctions and pressure alone."
"Without political and diplomatic tools, it is very difficult to shift the situation" on the Korean peninsula, Putin said at the Eastern Economic Forum in Vladivostok on Wednesday.
"To be more precise, I think it is altogether impossible," he added.
Both Russia and China have urged the US and North Korea to consider the double-freeze initiative devised by Moscow and Beijing, which would see Pyongyang suspend its nuclear and ballistic missile tests in exchange for a halt in joint US-South Korea military drills. However, that plan has been rejected by the US, which says it has every right to conduct exercises with its ally South Korea.