Local Islamic leader refuses to shake hands with Norwegian female minister on TV (VIDEO)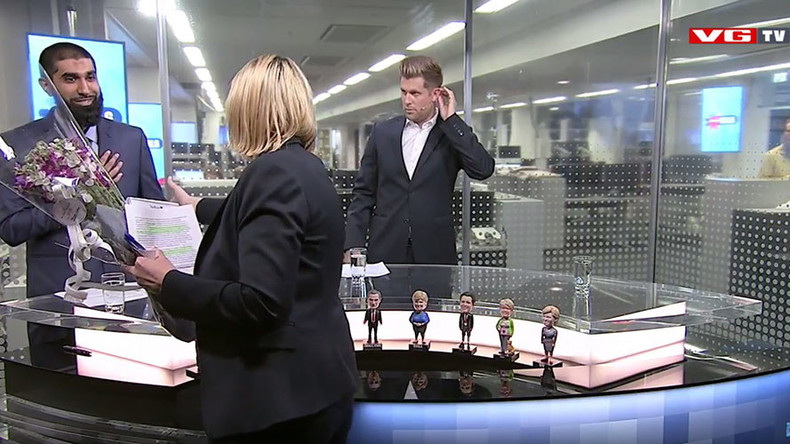 The leader of a local Sunni Muslim organization in Norway has refused to shake hands with the country's female minister of migration at the start of their TV debate.
The article has been updated with the comments from Fahad Qureshi's office.
Fahad Qureshi, founder and leader of a controversial Islam Net organization, was already in the studio of the VGTV channel, when Norway's Minister of Migration and Integration, Sylvi Listhaug, entered and shook hands with a male host first.
She then extended her hand to Qureshi, who instead of shaking it, handed her a bunch of flowers. The minister kept offering her hand, but the Muslim man instead put his own to his heart, while the woman's remained suspended in the air.
Qureshi has been previously involved in similar controversies in the European country. His organization, which is represented in several Norwegian cities, is mainly aimed at students to promote Islam and "solve misunderstandings" about it.
The leader of the Norwegian Progress Party is not the first woman to receive special treatment by the Sunni Muslim man. Having hundreds of members, his organization has been known for its public meetings, at which the audience is separated by gender.
The Islam Net leader has also previously expressed his support for execution of homosexuals and those who commit adultery, claiming it's a proper punishment for both and should be carried out everywhere.
Later Qureshi's office contacted RT, saying that the Islam Net leader had in fact changed his views on both issues. According to his office, Qureshi says that "the Islamic penal code has so many strict criteria [that] in reality, it will more or less never be applied" to those who commit adultery, rather serving to "deter people from coming near adultery."
"Regarding homosexuality, he [Qureshi] has expressed that he has come to know (sic) that there is not a consensus in Islam [on] capital punishment for the act of homosexual intercourse, and that he is not advocating for the death penalty to be applied," the statement from Qureshi's office said.
Qureshi also infamously tore up a copy of France's Charlie Hebdo magazine after a terrorist attack on its staff, saying that while he condemns the attack, he also believes the journalists have violated freedom of speech by mocking the Prophet Muhammad.
Recently, the issue of a man or a woman refusing to shake hands with someone of the opposite sex for religious reasons in European countries has led to several public scandals. Last year in Sweden, a school principal found it "discriminatory" that a female Muslim teacher would not want to shake hands with a male colleague. The young woman quit her job, but reported the incident to Sweden's equality ombudsman.
In a different case in Sweden, a Muslim man working for a municipality refused to shake hands with his female colleagues, instead holding his hand to his heart when greeting them. He was fired for breaching the equality policy, but brought a lawsuit over his dismissal.
READ MORE: Muslim border inspector refuses to shake hands with female colleagues in Sweden
In Switzerland, authorities in the canton of Basel have introduced a fine for parents of those Muslim students who refuse to shake hands with their female teachers on religious grounds. "The public interest with respect to equality between men and women and the integration of foreigners significantly outweighs the freedom of conscience (freedom of religion) of the students," the local department of education, culture and sport ruled after two male pupils announced shaking hands with their female teachers went against their religious beliefs.
You can share this story on social media: