Trump will be 'deposed immediately' if he blocks trade with China over N. Korea – Assange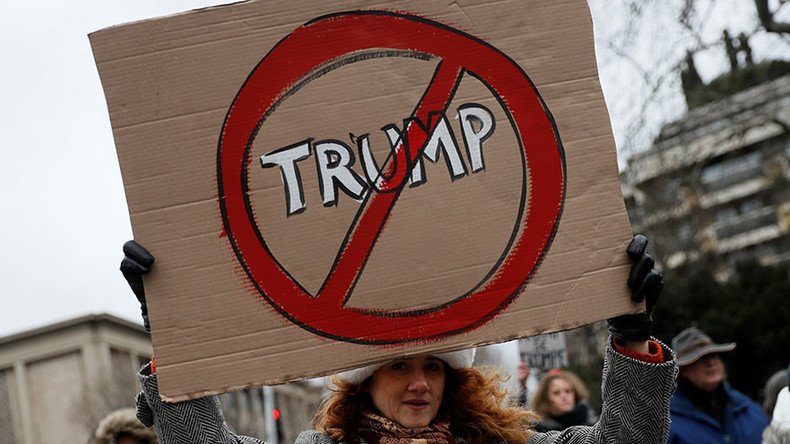 If Donald Trump blocks trade with China for being a North Korean trade partner, then he'll be immediately overthrown, says WikiLeaks co-founder Julian Assange, responding to Trump's tweet threatening to ban trade with states that do business with Pyongyang.
"90 percent of North Korea's trade is with China. If Trump blocks $650B[illion] of US trade with China he'll be deposed immediately," Assange tweeted.
On Sunday, the US president took to social media to say that Washington "is considering, in addition to other options, stopping all trade with any country doing business with North Korea."
The United States is considering, in addition to other options, stopping all trade with any country doing business with North Korea.

— Donald J. Trump (@realDonaldTrump) September 3, 2017
US goods and services trade with China totaled some $648.2 billion back in 2016, according to data from the Office of the United States Trade Representative (USTR). This makes China the "largest goods trading partner" of the US, and the 3rd largest US goods export market.
Trump's "other options" include a "full range" of capabilities, including nuclear ones, that the US is ready to use to defend its "homeland, territories, and allies" against North Korea.
In a series of tweets Sunday, Trump branded North Korea a "rogue nation and a threat." The latest developments in Pyongyang's nuclear capabilities are "very hostile and dangerous to the United States," he said.
Also on Sunday, North Korean state TV said that Pyongyang had successfully tested a hydrogen explosive device which can be mounted on an Intercontinental Ballistic Missile (ICBM). The test followed Pyongyang's claims that it developed a new, more advanced hydrogen nuke that is small enough to be fitted on an ICBM.
The test was a "perfect success" and was a "meaningful" step to complete the North's nuclear weapons program, state television reported.
The international community immediately condemned the test, supporting the idea of imposing new sanctions against the North.
The Russian Foreign Ministry also condemned the North Korean test, adding that in a situation like this, it is essential "to keep composure and to refrain from any acts which may lead to further escalation of tensions."
The test is "another example of Pyongyang's outright disregard" of UN Security Council resolutions and international law, the ministry said in a statement.
Japanese Chief Cabinet Secretary Yoshihide Suga suggested including restrictions on oil trade with North Korea into the list of new sanctions.
READ MORE: S. Korea holds ballistic missile drill in response to Pyongyang's nuclear test (VIDEO)
In the meantime, China's Global Times newspaper warned against cutting off the North's oil supply.
"If China completely cuts off the supply of oil to North Korea or even closes the China-North Korea border, it is uncertain whether we can deter Pyongyang from conducting further nuclear tests and missile launches. However, confrontation between the two is likely to occur," it said.
The newspaper warned that a potential conflict between Beijing and Pyongyang would "transcend any conflict between the US and North Korea, and take center stage on the Korean Peninsula."
You can share this story on social media: