ISIS suicide bombing attack on Iraqi power station kills 7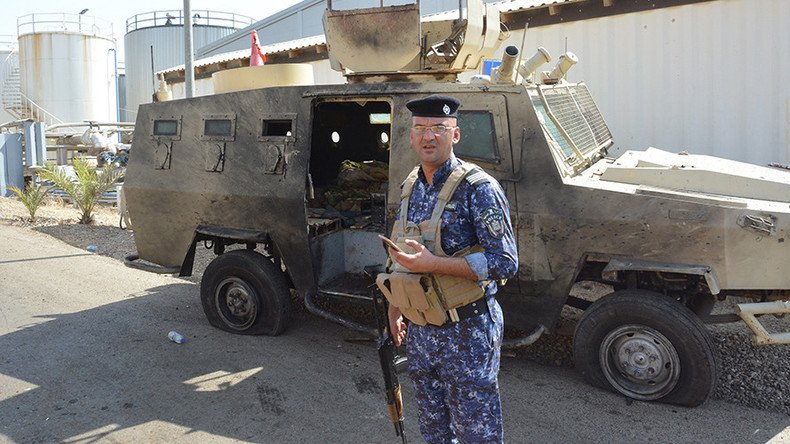 Seven people have died and at least 12 more are wounded after three Islamic State jihadists infiltrated a power station in the city of Samarra, 100 km north of Iraq's capital Baghdad, triggering a three hour standoff with security forces.
"At 2:00 am we were woken up by shots being fired," Abdel Salam Ahmed, a wounded victim of the attack told AFP. "We ran into one of the jihadists. Some of us hid while two others kept running towards the exit, shouting 'we are employees', but they shot them dead."
"I was in my night shift and suddenly heard shooting and blasts," Raied Khalid, another victim, told Reuters from his hospital bed. "A few minutes later I saw one attacker wearing a military uniform and throwing grenades through the windows."
Underneath their military disguise, a common strategy during terrorist attacks in the region, the three were wearing suicide belts.
According to officials, one of the terrorists was trapped by the security forces and chose to detonate his load near one of the generators, setting off a fire and explosions that destroyed temporary housing in the vicinity of the plant. The other two were eventually killed by officers.
The Islamic State (IS, formerly ISIS/ISIL) terrorist group used its propaganda agency to claim responsibility for the attack which came on the first day of the Muslim celebrations of the religious festival of Eid, and took place in a city renowned for its Shia monuments.
While it retains significant ground in Syria, Islamic State has been nearly wiped out in Iraq, but maintains pockets of control between Baghdad and the northern city of Mosul. Amid a mounting civilian death toll, in the past days, the terrorist group has lost control of the city of Tal Afar outside Mosul, from where it was driven this summer.
The next target for the Iraqi army, backed by the US-led international coalition air campaign, is Hawija, its new unofficial capital in the province of Kirkuk.
You can share this story on social media: