Iraq will be free from ISIS terrorists 'within days' – Iraqi ambassador to RT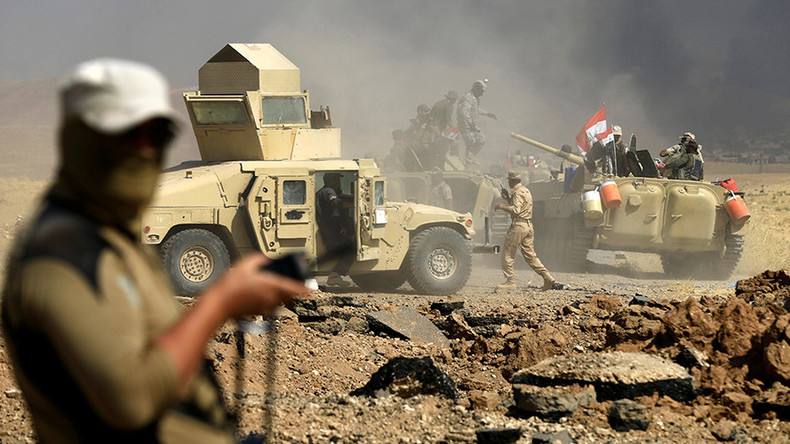 The war against Islamic State is almost over in Iraq with the army now wiping out the remaining, but "very small" number of terrorists, the country's ambassador to Russia told RT. He also spoke about the fate of foreign children whose parents joined ISIS.
"I would say the situation in Iraq right now [is as follows]: we are at the very final stages or chapters of closing the terrorism page," the Iraqi ambassador to Russia, Haidar Mansour Hadi, told RT in an interview Wednesday.
The Iraqi army is currently involved in an offensive in the district of Tal Afar in the north-west of the country, some 40 miles from Mosul. The area is "almost liberated," according to Hadi, who added "the speed of the operation there was so fast that no one could have expected."
Iraq's new ground zero: Thousands of civilians desperately fleeing Tal Afar battleground
"I think within seven days we've liberated most of Tal Afar. Now we only have very small pockets [with terrorists] and those [will be cleared] hopefully within days, and we will be able to say that now we have an Iraq free from terrorists, free from IS (Islamic State, formerly ISIS/ISIL)," the ambassador said.
However, defeating the terrorists in the war-torn country is not the only task currently at hand for officials. Once areas are cleared of IS militants, hundreds of children, whose parents fought under the terrorist group flag, are discovered. Many of those fighters came to Iraq from other countries, including Russia.
Foreign ISIS fighters used own children for 'easy access'
"There were terrorists from almost 100 countries, including from the US, Europe, and even as far as China, who we were fighting in Iraq," Hadi said.
So far, about 500 children of those terrorists have been discovered in areas previously controlled by IS, he said. "We believe there is probably more."
Iraq is now in the process of setting up a database "to know exactly how many children, how many people the Iraqi government and the Iraqi embassy can help through diplomatic and legal channels, to return those children safely home," he said.
Some of those children's parents were fighters who came from Chechnya and Dagestan in Russia, the ambassador said, adding that Baghdad is now working closely with Moscow and the Russian Foreign Ministry in particular, to arrange the return of the children to their homeland and to be reunited with relatives.
"We already managed to return six children. We did it through legal channels, [with the involvement of] the Higher Judicial Council in Iraq which is in charge of giving the final approval for children to have all the documents in order to prove they are Russian citizens.
Then we sped up the process to finalize all paper work, having been given approval from our interior ministry and the ministry of labor and social affairs, because most of those children were at children homes in Baghdad supervised by this ministry."
'Who is in that plane?' Bombing trauma haunts children brought home to Russia from Iraq
The ambassador explained that once children, whose parents are believed to have been killed while fighting in IS ranks are discovered, they are put in government run children's homes in Baghdad, where "they are provided with the best services, looked after and given food, clothing and good caring until we find their relatives and they prove the kinship."
There are several such children's homes in the Iraqi capital, but the plan is to put all of those children in one home, so it is easier to coordinate the efforts of various Iraqi government entities involved in the process and speed it up. Those children have already been through a lot of suffering, the diplomat said, adding that officials are now doing their best to help reunite them with family.
"I have been told how one of the terrorists was asked as of why did he bring his son to Iraq when the boy was just two or three years old, and he said: 'So I could have an easy access,' [to avoid falling under suspicion while] reaching Iraq or Syria. It just shows how dangerous these people are, if they put their own children at such a risk," Hadi said.
He also explained that while some of the children's parents were both from Russia, and thus the children are Russian citizens, there are more complicated cases when children were born from a Russian father and Iraqi mother.
"In that case, it will be up to Iraqi authorities to decide [their future country of living]. If the mother is still alive, she will have the right to keep the child, but if both parents have died, there will be a system to go through, and the Higher Judicial Council will have a final say," the Iraqi ambassador said.
"It's a very complicated situation, but we are trying to deal with it," he added.
READ MORE: 'I won't tell them mom's dead': Girl from Iraqi orphanage to be reunited with family tells RT crew
The ambassador also expressed hope that more countries will join Russia's initiative to return home the children whose parents died in Iraq while fighting alongside the terrorist group.
"We believe that once we clear up all the areas and find [such] children there, more countries will come forward and contact us asking for their children back."