Moscow will not react with 'hysterical impulses' to closure of SF consulate – Ambassador to US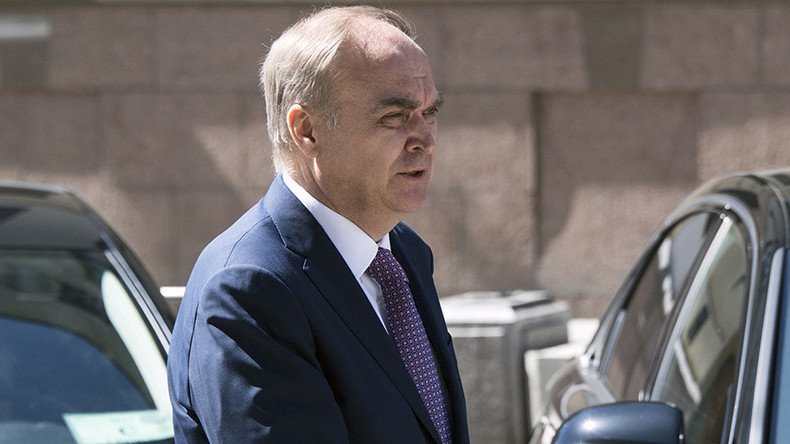 Russia's new Ambassador to the US, Anatoly Antonov, says Moscow will not react hysterically to the closure of its consulate in San Francisco. Instead, the diplomat stressed, both countries should build a dialogue for the sake of international stability.
Antonov's arrival on US soil Wednesday was immediately marred by the news of the September 2 closure of Russia's Consulate-General in San Francisco, a trade mission in Washington, DC and a consular annex in New York City.
Moscow will surely act "professionally and calmly," Antonov, who previously served as deputy defense and foreign minister said according to RIA.
"Speaking in Leninist terms, we do not need hysterical impulses," said the diplomat, who arrived in the US just about an hour after the State Department announced the punitive measures.
Just days before starting his tenure in Washington, replacing Sergey Kislyak as head of the Russian mission in the US, Antonov spoke to the Russian newspaper Kommersant. He shared some of his future plans and his vision in the areas of vital US-Russian cooperation.
"I will strive to convey the message to the Americans that we are not enemies, but we should be partners for the benefit of the interests of Russia and the United States," the new ambassador said in the interview published Wednesday.
He added that he will try to "stabilize and then to improve" bilateral relations on a "equal, pragmatic, mutually respectful and mutually beneficial" basis.
Russia and the US, both nuclear powers, "bear special responsibility" for the stability of the world and international security, the diplomat believes.

"When we act together on the international arena, the world gets more peaceful and safer," Antonov said, adding that there are plenty of mutually important issues, including fighting terrorism, drug traffic, non-proliferation of weapons of mass destruction, organized crime and cyber security.
However, a range of factors are impeding dialogue. The Obama administration has left "bitter legacy," while the current Washington establishment is trying to "play [the] Russian card in the internal political battle," Antonov says.
Sanctions, imposed against Russia by the US in early August, are also a "serious blow to bilateral relations and opportunities for effective cooperation," he said.
"It is time to stop, they cannot endlessly follow the path of replicating anti-Russian actions," Antonov said, adding that cooperation would be possible when pressure and blackmail are excluded from any dialogue.
In June, western media speculated about a tree-stage plan for building relations with Russia designed by US Secretary of State Rex Tillerson. Antonov refused to comment on the speculations and said Moscow has not received any such document.
"Diplomats do not work with leaks and speculations, but with official information coming from the other side, whether verbally during meetings and negotiations, or in the format of various documents. We have not received from Washington any 'three-step plans' aimed at normalizing relations," Russia's new US envoy said.
Moscow for its part, handed the US a document outlining its own suggestions to improve bilateral relations in March, when the first meeting between the countries' leaders was being prepared.
"The accent there was put on the trajectories where our interests clearly overlap and practical results can be achieved quicker," the diplomat said.
READ MORE: US 'should & will' get along with Russia – Trump
Antonov wants Moscow and Washington to establish working contacts between its defense ministers and to reestablish joint meetings between the countries' foreign and defense ministers.
"In addition to the regular meetings between the heads of foreign ministries [Russian Foreign Minister] Sergey Lavrov and [US Secretary of State] Rex Tillerson, it would be useful to establish working contacts between Russian and US Defense Ministries, General Sergey Shoigu and [US Defense Secretary] James Mattis," he said.
"The time is ripe for restoring the practice of joint conferences of Russian and US Foreign and Defense Ministers in the two-plus-two format."
The diplomat believes that Russia and the US "cannot lose time" on "false threats" anymore. "It is time to look around and deal not with false threats, but with the real security problems of the two countries, the main of which is fighting against international terrorism," Antonov underlined.
Russia-US relations have been rapidly deteriorating in the wake of allegations that Moscow meddled in the 2016 US presidential elections. Allegations which Russia have consistently denied.
Although US leader Donald Trump regularly stated that he wants to better relations with Moscow, he signed a bill earlier this month authorizing new sanctions against Russia despite stating at the time that the motion was "seriously flawed."
The countries have also been embroiled in a row over Russian diplomatic property confiscated by the Obama administration at the end of last year. The Obama administration denied access to the two diplomatic compounds and have not restored it since. Obama also kicked out dozens of Russian diplomats.
In August, seven months later, Moscow finally responded and imposed symmetric measures against the American diplomatic mission in Russia, cutting the US diplomatic corps by 755 people and bringing it to the numbers equivalent to Russian diplomatic staff in the US, which is 455 people.
Following Moscow's decision, the US Embassy in Moscow announced that it would halt issuing non-immigrant visas in Russia till September and will close its consulates in St. Petersburg, Ekaterinburg and Vladivostok. The appointment waiting time to apply for standard tourist visas was also increased, and Russians will have to wait for 85 days for it.
Moscow said that it is not going to mirror the move and "take it out on American citizens." The US, on the other hand, chose a different route. On Thursday, the State Department gave Russia three days to vacate its diplomatic mission in San Francisco, a trade mission in Washington D.C. and a consular annex in New York.
You can share this story on social media: