US 'should & will' get along with Russia – Trump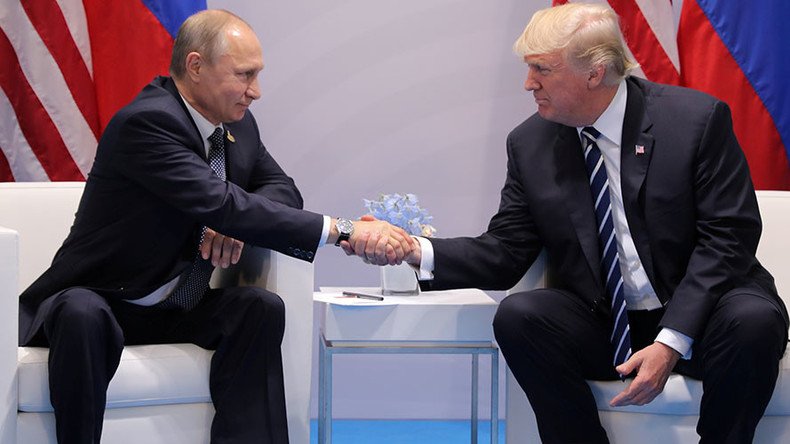 President Donald Trump has expressed confidence that the world's two nuclear superpowers would "get along" and that US relations with Russia will eventually improve from their record low, to if not "great," then at the very least, "good."
"I hope that we do have good relations with Russia. I say it loud and clear, I've been saying it for years: I think it's a good thing if we have great relationships, or at least good relationships with Russia," the US president said during a joint news conference with his Finnish counterpart Sauli Niinisto.
"It's a big country, it's a nuclear country, it's a country that we should get along with, and I think we will eventually get along with Russia," Trump added.
Despite his vision of better relations with Moscow, Trump signed a bill earlier this month imposing new sanctions on Russia despite stating at the time that the motion was "seriously flawed." He also criticized Congress for applying pressure to see it signed into law. Russian PM Dmitry Medvedev blasted the move as a declaration of a fully-fledged economic war, warning that it would have a decades-long negative effect on Russia-US relations.
Later, when asked by a Finish journalist if the US considers Russia a security threat, in particular to the Baltic region, Trump dodged the answer by saying he "would consider many countries threats."
"These are all threats that we'll be able to handle if we have to," the US president added. "Hopefully, we won't have to handle them, but if we do, we will handle them."
After being asked what specific strategies the US could offer if Russia decided to "escalate" the situation in the Baltic, Trump refused to elaborate, just stating that the US is "extremely protective" of that region.
NATO and its allies are planning to significantly increase their military activity on Russia's borders ahead of the biennial Russian-Belorussian Zapad exercises scheduled for September 14-20. While the joint maneuvers will involve around 13,000 troops, NATO is flexing its muscles on all fronts, demonstrating its readiness to fend off the perceived 'Russian aggression.'
A supposedly neutral Sweden, which is a member of NATO's "Partnership for Peace" program, is hosting a rare 20,000-strong Aurora 2017 drills between September 11-29. The military exercises will be conducted in the air, on land and at sea, with the participation of a US Patriot missile battery, helicopters and a unit of National Guard tanks. Finland, also not a NATO member state, will take part in the drills.
"We are feeling ourselves as doing all what is possible to maintain peace. And that is what we are doing in Baltic Sea area too," Niinisto told journalists at the joint press conference with Trump Monday.
At the same time, Finland's president cautioned that Aurora's 2017 participants should be very careful with their maneuvering to avoid any accidental clashes with Russia.
"We have to be careful that this huge military, this huge military trafficking over Baltic does not cause any accident or problems," Niinisto said, warning that accidents could lead to military confrontation.
In what is shaping up to be a busy military maneuvers month, Ukraine will host NATO troops for the Rapid Trident 2017 military drills between September 8-23. The war games will involve approximately 1,800 personnel from 14 nations and will focus on "stability operations to ensure a safe and secure environment."
Amid NATO's posturing in the face of an allegedly increasingly "assertive" Russia, Niinisto underlined that it's vital to keep an open communication channel with Moscow.
"I think it's important that we continue to work with NATO to enhance like I said, dialogue between Russia and NATO," the Finish president said.
On Friday, the Russian foreign ministry said the media hype around the 2017 Zapad drills is designed to justify to western audiences the buildup of NATO's military activity around Russian borders.
"The joint Zapad-2017 military exercises involving the Russian and Belarusian armed forces are purely defensive," the ministry's statement emphasized.
You can share this story on social media: