New 'Jungle?' Hundreds of migrants set up camp in Brussels park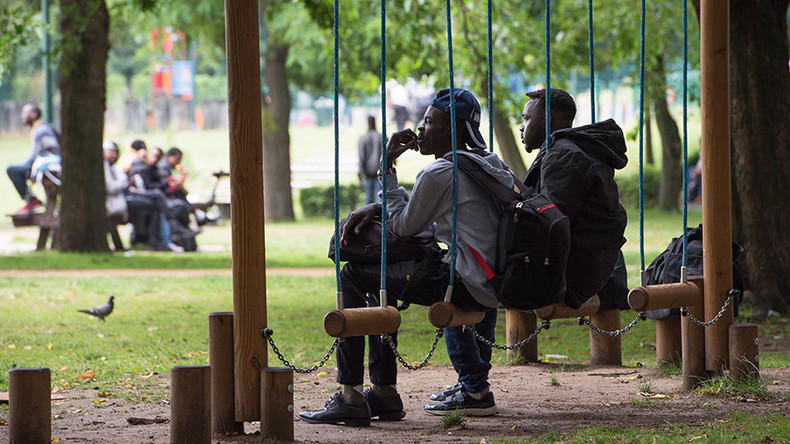 Hundreds of migrants have set up a makeshift camp in the heart of Belgium's capital, sparking concerns that a new so-called Calais 'Jungle' might take root. With authorities taking a tough stance, a local charity is highlighting their daily difficulties.
Maximilien Park, close to Brussels' Gare du Nord railway station, and just some 15 minutes away from the European Commission building, has become a temporary home for hundreds of migrants.
RT's Charlotte Dubenskij spoke to some of those forced to sleep rough, to learn more about their daily struggle to seek shelter from the rain and to find something to eat.
"This is not life," one of the migrants said. Another, hiding his face from camera, said he has lost hope of finding "some bright future in Europe."
There are some 400-500 migrants, mostly from Sudan and Eritrea, the Medicines du Monde (Doctors of the World) group says, adding there used to be just a handful of people, with the number swelling significantly in recent weeks.
"They sleep there, they stay there during the day. These migrants don't have access to basic things like food, shower or healthcare," Medicines du Monde's communication officer, Jonathan Hardenne told RT.
"For now Belgian authorities are not doing anything to help these migrants, because they consider that if those migrants want to be helped they should apply for asylum in Belgium," Hardenne said.
The group is calling on local authorities to open a reception center. Authorities counter that the migrants need to go to the nearby asylum office to be accommodated.
"It's the migrants on their way to Great Britain," the communications office of the State Secretary for Asylum Policy and Migration, Theo Francken, told RTBF.
"They are close to the asylum office and could introduce a procedure [of seeking asylum], they choose not to do so." If the procedure is opened, an applicant will be lodged and fed, the office added.
"But in this case they do not seek asylum, because they do not want to stay in Belgium. So we will not create this hub [for migrants]."
Not everybody, though, knows that they can file an asylum application in the country. And those who aware of such a possibility are not familiar with the procedure, Hardenne argues.
Although Medicine du Monde distributes food and sleeping bags every night, some migrants don't get a meal, since the numbers have "more than tripled" since the beginning of July.
"We've heard reports of police coming to the park to confiscate the things of migrants – blankets, phones or just take them to custody. That's the kind of difficulties they face," Hardenne told RT.
While some of the migrants arrived from the notorious, but now dismantled Calais camp, others fled from the northern French region of Dunkirk or Italy, according to Infomigrants.
"The lack of solutions in France causes them to flee the Hexagone (France)," Medicines du Monde director in Belgium, Pierre Verbeeren says. "They try their luck in Belgium."
With the government struggling or indifferent to addressing the issue, the charity fears the number of refugees will double by winter.