Sea Shepherd blames Japan's satellite surveillance tech for halting anti-whaling mission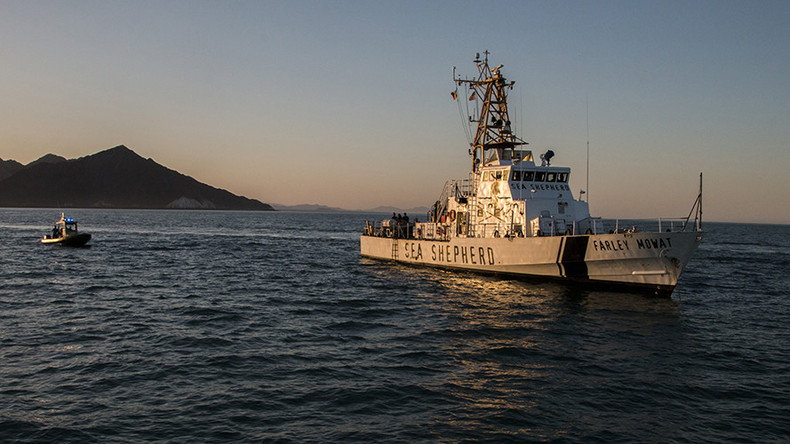 Anti-whaling group Sea Shepherd won't face-off with Japanese whalers this year, admitting it "cannot compete with their military grade technology." Founder Captain Paul Watson said anti-terrorism laws enable whalers to severely hamper its famed efforts.
Watson announced on Facebook that his ships would not be returning to the Southern Ocean, asking instead that the Australian government take responsibility for combating the whalers activities.
He decided that his fleet would regroup and produce different strategies, instead of spending our "limited resources on another campaign to the Southern Ocean."
The whalers' military surveillance is now constantly monitoring the Sea Shepherd via satellite, according to Watson, making success in its mission increasingly difficult.
"This year Japan escalated their resistance with the passing of new anti-terrorism laws, some of which are specifically designed to condemn Sea Shepherd tactics," he said.
The Sea Shepherd achieved fame for its attempts to ward off whales from Japanese boats. In 2008 the series 'Whale Wars' documented their efforts.
Disruption methods used by Sea Shepherd include attacking ships with diluted butyric acid stink bombs and entangling propellers with ropes.
READ MORE: 2 ships set sail to 'intercept' Japanese whale fleet (PHOTOS, VIDEO)
In 2014 the UN's International Court of Justice ruled that Japan must stop whaling in Antarctica. It was suspended for one season, before Japan resumed it in 2015 with quotas imposed on the numbers harpooned.
Japanese whaling is carried out by the government-backed Japan's Institute of Cetacean Research. Last year they were successful in obtaining an injunction which prevented the Sea Shepherd from ramming or coming within 500 yards of their ships.