2 ships set sail to 'intercept' Japanese whale fleet (PHOTOS, VIDEO)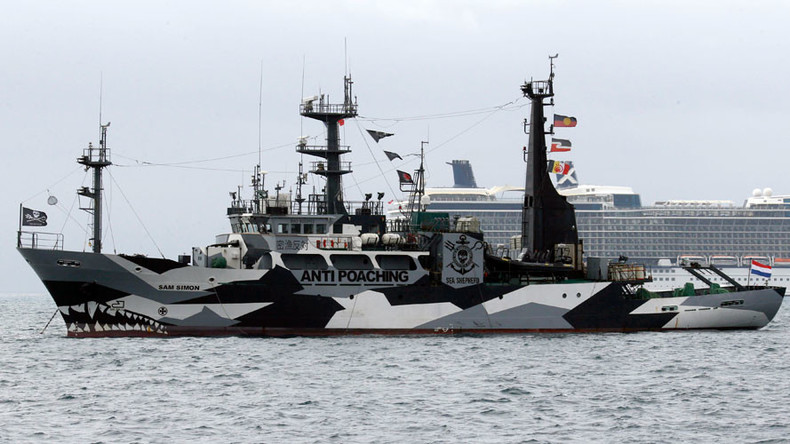 Two ships from marine activist group the Sea Shepherd Conservation Society have set sail to stop a Japanese whaling fleet from "the slaughter of minke whales." The group says the Antarctic is not a place for illegal whaling vessels.
"After final preparations in Australia, two Sea Shepherd vessels are now on their way to the Southern Ocean to intercept the Japanese whaling fleet in a bid stop their slaughter of Minke whales," Sea Shepherd group said in a statement on Monday.
The group's flagship vessel 'Steve Irwin' departed Saturday from the city of Melbourne, Australia and patrol vessel 'Ocean Warrior' departed from the city of Hobart, Tasmania on Sunday. Both ships have a total of 50 crewmembers from eight countries: Australia, Germany, France, Britain, Austria, Spain, Canada and the US.
Now the ships' aim is to prevent the Japanese whaling fleet "from killing its self-allocated quota of 333 Minke whales," the group said. Japan announced in 2015 that it is planning to kill 333 minke whales each year over the next 12 years.
READ MORE: 333 whales per year? Japan fleet sails out for 'scientific' research despite UN ruling
It is the 11th whale defense campaign launched by the group. This time the action is called Operation Nemesis.
"It's time that Japan respected the International Court of Justice, the Australian Federal Court, and the global moratorium on commercial whaling and ended their so-called scientific lethal hunting of whales off the Antarctic coast," said Sea Shepherd Australia's Managing Director Jeff Hansen.
READ MORE: Anti-whaling activists step-up campaign with custom-built Ocean Warrior ship (VIDEO)
As the Japanese whale hunt lasts from December till March, the 'Nemesis' vessels "have been equipped to endure four months of harsh conditions at sea to protect the whales of the Southern Ocean," according to the group.
"The Japanese whaling fleet might be able to escape and outrun the international courts, but it won't escape Sea Shepherd," it said, adding that Antarctica is a place "where illegal whaling vessels from the other side of the world do not belong."
READ MORE: French marine park sued by activists over multiple animal deaths
The Sea Shepherd Conservation Society, which was founded by former Greenpeace member Paul Watson in 1977, has previously seen its members branded as "pirates" for their aggressive tactics to disrupt whaling.
The group is known for taking direct actions. Disruption methods used by Sea Shepherd include attacking ships with diluted butyric acid stink bombs and entangling propellers with ropes.
In 1986, a moratorium against commercial whaling came into force, under the International Whaling Commission (IWC), as whale populations plummeted toward collapse after decades of industrial-scale whaling.
In March 2014, the International Court of Justice ruled that Japan must stop whaling in Antarctica, saying that Tokyo had produced insufficient scientific data to justify the killing of whales for research. Tokyo canceled its Antarctic hunt, but carried out a smaller version of the hunt in the Northern Pacific in the summer.
Japanese whaling is a centuries-old tradition which dates back to the 12th century. During the 2014 Antarctic hunt, 251 minke whales were killed and 103 the previous year, according to data from Japan's fisheries agency. In the Northwest Pacific, 132 whales were killed in 2013, and 92 off the Japanese coast. Meat from the whales usually ends up in food markets.
Environmental organizations have repeatedly staged protests against whaling, which is also popular in Norway and Iceland.