333 whales per year? Japan fleet sails out for 'scientific' research despite UN ruling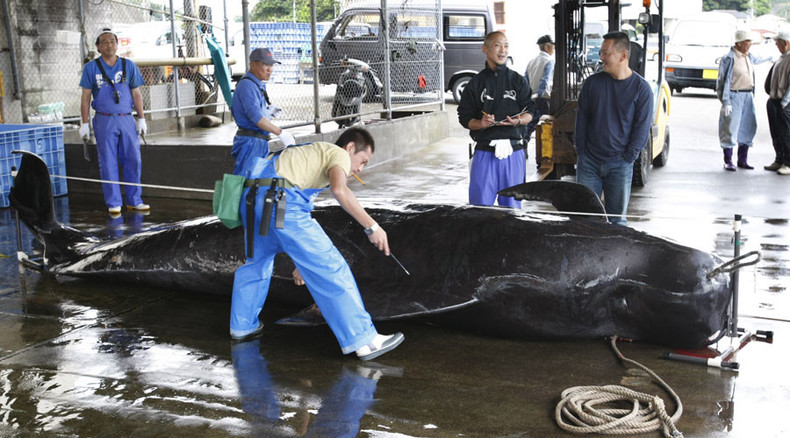 Japan's whaling fleet is going to set sail to conduct what it calls "scientific" research, ignoring the UN court ruling and protest campaigns. Opponents of the practice fear the hundreds of whales killed in process will end up on the food market.
The fleet is due to leave for the Antarctic on Tuesday, December 1, for a three-month hunt. This is will be the first expedition since the International Court of Justice (ICJ) ruled last year that the hunts were not truly scientific.
Claims that Japan's whaling program is "scientific" are utterly bogus, and everyone knows it. #stopwhaling

— Animal Protection AU (@MoveTheWorldAU) November 30, 2015
In a statement published on Monday, Japan's Fisheries Agency said that four ships – a factory ship for processing whaled and three faster vessels – would depart for a "research period." Japan plans to kill as many as 333 minke whales each year over the next twelve years
Japan filed a note to the International Whaling Commission last month, warning that it would resume whaling. Sea Shepherd and other environmental groups have turned to Australia, urging it to put more pressure on Japan.
If diplomatic efforts fail, Australia might send its own ship to follow the Japanese fleet as it enters the waters considered to be a whale sanctuary, said Australia's attorney general George Brandis, according to The Guardian.
"Australia strongly opposes the decision by Japan to resuming whaling in the Southern Ocean this summer," the Australian environment minister, Greg Hunt, said on his website on Saturday. "There is no need to kill whales in the name of research. Non-lethal research techniques are the most effective and efficient method of studying all cetaceans."
READ MORE: Outrage as tons of whale meat shipped to Japan - via Iceland
"Australia is committed to the protection of whales and we will continue to work with the international community to promote whale conservation and uphold the global moratorium on commercial whaling," he concluded.
With declining demand for whale meat, Japan's catch has significantly gone down, but Tokyo claims that lethal sampling is irreplaceable when it comes to obtaining data on whales.
Citing research needs, Japan has been able to repeatedly skirt the ban whaling, imposed as far back as 1986 by the International Whaling Commission.