Israel treated unfairly, Netanyahu complains to visiting UN chief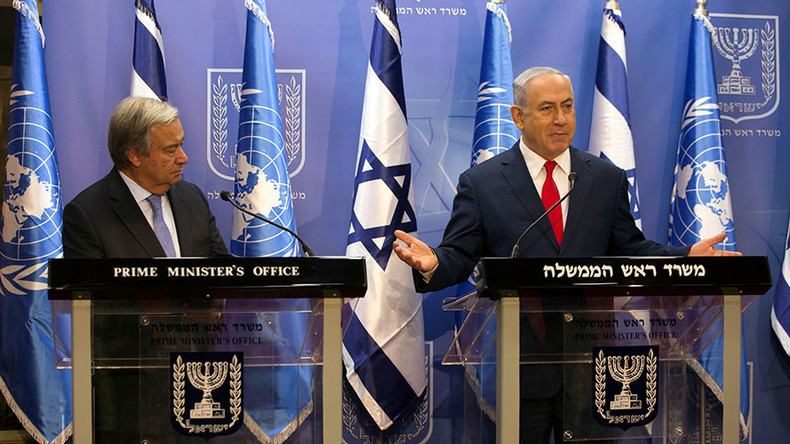 The UN is treating Israel unfairly by diminishing its ties to Jerusalem and not doing enough to curb arms deliveries to Hezbollah, Israel's prime minister, Benjamin Netanyahu, complained to visiting UN Secretary-General Antonio Guterres Monday.
Benjamin Netanyahu lashed out at the UN in the presence of Guterres, who is in the Middle East to try and facilitate the resumption of peace talks between Israel and Palestine.
Netanyahu said the United Nations treats Israel unfairly and "absurdly denies" Jewish connections to Jerusalem which Israel claims as its capital, while the UN views East Jerusalem as Palestinian territory which Israel occupied illegally under international law.
Netanyahu's other complaint to the UN was that it was not keeping Palestinian hate speech against Israel in check.
He also blamed the UN peacekeeping force in Lebanon, UNIFIL, for being too soft on the Iranian-backed Hezbollah movement which is seeking the destruction of the Jewish State, according to the Israeli prime minister.
UNIFIL has failed to report on the "tens of thousands of weapons smuggling into Lebanon for Hezbollah," he said as cited by the Jewish Telegraphic Agency.
Guterres promised Netanyahu "to do everything in my capacity" to make sure the peacekeepers fulfill their obligations in Lebanon.
"I understand the security concerns ofIsrael and I repeat that the idea or the intention or the will to destroy the state of Israel is something totally unacceptable from my perspective," he said.
They also discussed a UN construction project in Jerusalem's Armon Hanatziv neighborhood, which Israeli officials say is being carried out illegally and without a permit. Netanyahu told Guterres that the UN should abide by the rules of construction and Israeli laws, Arutz Sheva reported.
Netanyahu and Guterres agreed that Israel and the UN would attempt to negotiate a compromise solution that would be in line with Israeli law.
As for attempts to bring back Israel and Palestine to the negotiations table, Guterres asked Netanyahu to work towards improving the Palestinian economy so that the Palestinians could realize the benefits of peace.
Netanyahu accuses Iran of building missile sites in Syria, Lebanon
Netanyahu also told the visiting UN Secretary-General that Iran was constructing missile production sites in Syria and Lebanon.
Tehran is turning Syria "into a base of military entrenchment, and it wants to use Syria and Lebanon as warfronts against its declared goal to eradicate Israel," he claims, as cited by Reuters.
"It is also building sites to produce precision-guided missiles towards that end, in both Syria and in Lebanon. This is something Israel cannot accept. This is something the UN should not accept," the Israeli PM said.
Netanyahu provided no proof of his accusations against Tehran, but his statement comes a few weeks after Israel's Channel 2 News showed images of what it called a construction site of an Iranian long-range missile production facility in northern Syria.
According to the broadcaster, the pictures were captured by an Israeli satellite not far from the Syrian Mediterranean coastal town of Baniyas.
Russia, Iran and Hezbollah, have been helping the Syrian government of President Bashar Assad in his battle against terrorists in the country. Last week, Netanyahu told Russian President Vladimir Putin that Israel was ready for one-sided actions should Iranian forces not withdraw from Syria.
"Israel opposes Iran's continued entrenchment in Syria. We will be sure to defend ourselves with all means against this and any threat," he said.
The Israeli PM has been also working hard to persuade the US that the main threat in Syria is not from not Islamic State and Jabhat al-Nusra terrorists, but from Tel Aviv's main geopolitical rival, Iran.
Guterres decries threats against Israel as "modern anti-Semitism"
Earlier on Monday, Guterres visited a Holocaust Museum and met with the Israeli president, Reuven Rivlin, saying that calls for the annihilation on the Jewish state were a "form of modern anti-Semitism."
He didn't back Rivlin's claims of "the discrimination against Israel" in some UN affiliates.
"I sometimes disagree with [the] positions of the government of Israel," Guterres said, emphasizing that as the UN General-Secretary, he's committed to "treating all states equally."
READ MORE: Netanyahu touts land swap with future Palestine in talks with US officials – report
Guterres will hold talks with the Palestinian prime minister, Rami Hamdallah in the West Bank Tuesday and will then travel to Gaza Wednesday as part of his first trip to the region since taking office on January 1.
The Secretary-General will also meet the families of the two slain Israeli soldiers who had been held by Hamas since Operation Protective Edge in 2014.
Guterres isn't expected to negotiate with any Hamas representatives, but Israeli sources told Haaretz he can influence the armed Palestinian group indirectly via Qatar and Egypt.