Barcelona attack suspect remains at large, may be in France – police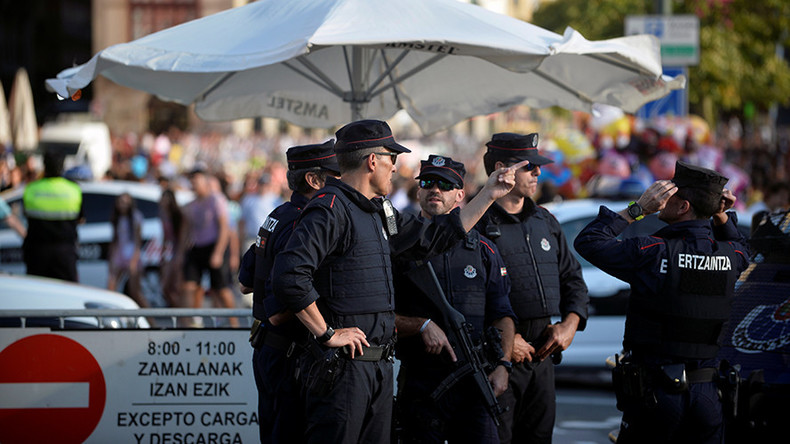 Police in Catalonia are still looking for a 22-year-old Moroccan suspect in the Barcelona attacks, who may have fled north into France.
The suspect, Younes Abouyaaqoub, is the only person unaccounted for in the case of an extremist cell of 12 people identified by Spanish police, force spokesman Albert Oliva told a local radio station on Sunday.
Albert Oliva, portaveu @mossos: "En benefici de la investigació, només podem confirmar que Younes Abouyaaqoub està en recerca i captura."

— Via Lliure de RAC1 (@vialliure) August 20, 2017
Oliva added that the identification process of the 14 victims in Barcelona is progressing, but will require more time for DNA testing and necessary formalities. He said the families of some of the individuals killed have been notified.
READ MORE: Police raids house of missing imam over suspected links to Catalonia terrorist attacks
Catalan police have put up scores of roadblocks across the province in a manhunt for Abouyaaquoub, but the suspect has so far eluded law enforcement.
The investigation is also focusing on imam Abdelbaki Es Satty, who is suspected of radicalizing the group behind the Barcelona attack. He is believed to have died in an explosion in a house in the town of Alcanar.
Oliva refrained from confirming the number of people killed in the blast, saying it could be "one, two or three."
Catalonia Police Chief Josep Lluis Trapero later on Sunday confirmed that the remains of two people were indentified in the Alcanar house.
The official also said that only one person was inside the van used to attack pedestrians in Barcelona, but it was not necessarily Abouyaaquoub, whose credit card was used to rent the vehicle.
Abouyaaquoub, Trapero added, may have eluded the manhunt in Spain and crossed into France.
On Thursday, a man plowed a van into a crowd of people in a popular tourist street in Barcelona, killing 13 people and injuring more than 100. Hours later, terrorists launched a second attack in the seaside town of Cambrils, injuring seven people, one of whom later died.