Berlin police on standby as Neo-Nazis gather for march to pay tribute to Hitler's right-hand man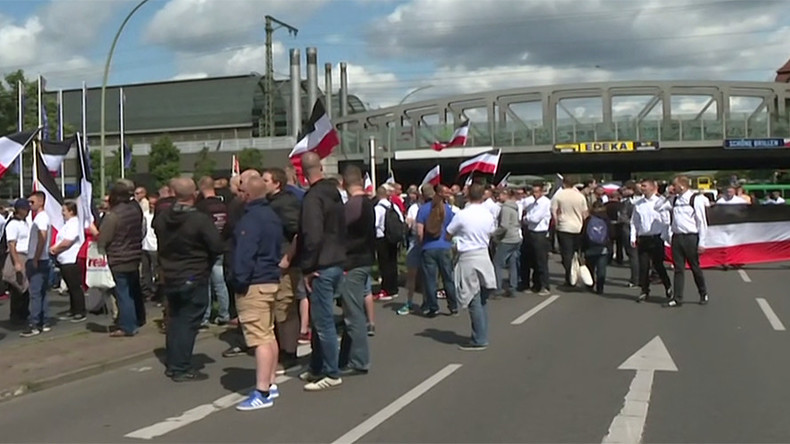 Hundreds of neo-Nazis gathered in Berlin to commemorate the 30th anniversary of the death of Hitler's first deputy and right-hand man Rudolf Hess. A counter-rally was also staged in the German capital.
The rally started at 12pm local time, with some 1,000 heavily-armored police officers separating the neo-Nazis from counter-demonstrators in the capital. About 500-700 people attended the rally in the Spandau area of Berlin. The counter-protest turnout was larger, ranging from 500 to 1500 people, according to media estimates.
Hess, a prominent Nazi, hanged himself at the age of 93 in Spandau prison August 17, 1987, roughly 30 years ago.
His supporters carried a banner reading "I regret nothing," referring to the last words of Hess at the Nurnberg trials. Another banner read "Stop the suicide lie, it was a murder," in reference to a conspiracy theory, popular among neo-Nazis, which claims Hess did not commit suicide but was actually murdered by British intelligence operatives.
Berlin police gave permission for far-right activists to stage the rally but listed certain restrictions. The protesters were not allowed to glorify Hess "in word, writing or image" or use military music during the march. In addition, the number of banners were restricted to one for every 50 participants.
The demonstrators carried black, white and red German Empire flags, which were used briefly during Nazi era in 1933-35. The notorious red swastika flag is banned for public display in Germany.
The demonstrators are allowed to use two pieces by Beethoven and two by Wagner during the march, the court order said, as cited by Der Tagesspiegel newspaper.
Berliner Kurier newspaper released a route, which the demonstration should reportedly use.
The measures are aimed at balancing free speech rights and rights of counter-demonstrators, Sven Richwin, a Berlin lawyer told AP.
"Anything intimidating is 'verboten,' [Eng: forbidden]" Richwin added.
READ MORE: Britain tried to free Hitler's first deputy from Spandau imprisonment
Hess was a central figure during Adolf Hitler's era. He was the deputy Führer from 1933 until he embarked on a covert mission to Britain in 1941, in an effort to secure a peace treaty between the UK and Nazi Germany.
He was given a life sentence during the Nuremberg trials, a series of military tribunals convened by the Allies which prosecuted prominent Nazis for war crimes.
Hess was transferred to Spandau Prison following the trials and spent some 40 years there until his death. He was the only Spandau inmate during his last 20 years of imprisonment. The prison was demolished after his death to prevent it from becoming a shrine.