Riyadh jet downs passenger plane in Saudi TV animation amid Qatar airspace row (VIDEO)
Published time: 15 Aug, 2017 16:41
Edited time: 19 Aug, 2017 19:21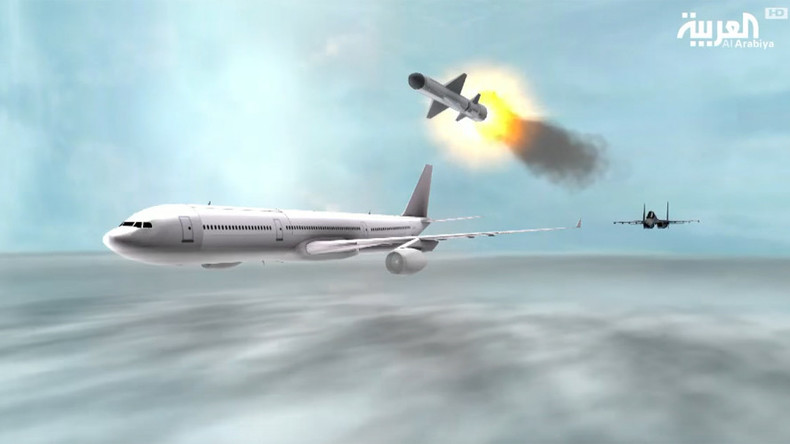 As the diplomatic feud between Doha and its Arab neighbors continues, Saudi Arabia's Al Arabiya TV has published a video showing a Saudi fighter jet downing a passenger plane, warning it's an "option" for violating Riyadh's airspace.
The animated video makes clear that Saudi Arabia would have the right to deal with a "violating plane" in "any way it wishes" under international law.
It begins by showing a less extreme scenario in which a commercial Qatar Airways flight is forced to land by a Saudi fighter jet after entering the country's airspace.
However, it goes on to illustrate a deadly example, in which a passenger jet – this time with no identification marks on its hull – being shot down by a Saudi military plane with a missile.
"The options in this case either take the form of deploying a fighter jet that forces the plane to land whereby the flight crew are then tried on several charges," the video states.
It goes on to say that "international law also allows states to shoot down any flight that violates a state's airspace, classing it as a legitimate target, especially over military areas."
The clip was posted on the website of Al Arabiya on August 9, but has only garnered wider attention since late Monday.
It has been condemned on social media, with one user accusing the video of "spreading terrorist thinking."
Many others also chimed in to slam Al Arabiya.
The video was also shared on Twitter by al-Arabiya's English language account, titled, "Understanding why the ban on Qatar exists."
Social media users pointed out that the video did not explain why the ban exists.
The video's release comes after Saudi Arabia, the United Arab Emirates, Egypt, and Bahrain implemented commercial and economic blockades on Qatar in June, accusing it of supporting terrorism. Doha has repeatedly denied those claims.