Swiss hotel signs telling Jews to shower before & after swimming see owner under fire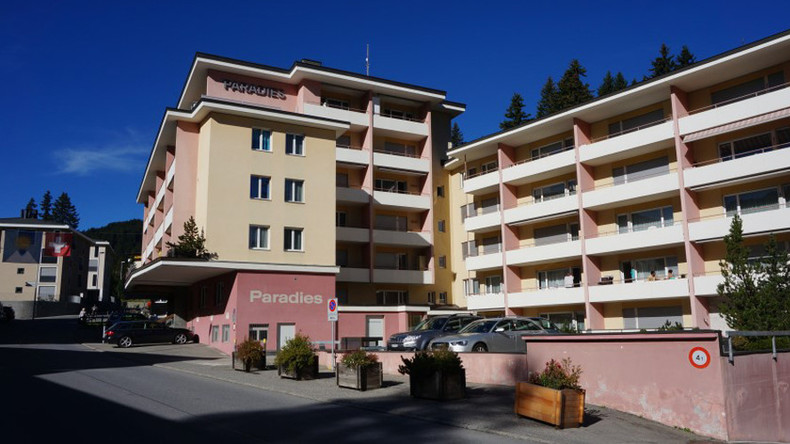 The owner of a Swiss hotel has been accused of anti-Semitism after she singled out Jews in two different signs, one of which told them to shower before and after swimming. The owner admits she used the "wrong words" in the notes.
"To our Jewish guests...please take a shower before you go swimming and although after swimming. If you break the rules, I'm forced to cloes (sic) the swimming pool for you...," wrote Ruth Thomann, owner of the Paradies Apartment House in Arosa, Switzerland.
The sign was covered by Israeli media after a man staying at the hotel told Channel 2 that he and his family were "shocked" when they read it.
However, the pool warning wasn't the only offensive sign aimed at Jews.
"For our Jewish guests: You are allowed to access the refrigerator only in the following hours: 10:00-11:00 and 16:30-17:30," a second note read. "I hope you understand that our team does not like being harassed every time."
Thormann told the Algemeiner that she had her reasons for addressing the signs to "Jewish guests."
The hotel owner said the pool note was addressed to Jews because "some of these guests went swimming with clothes on, with T-shirts, and didn't take a shower."
The refrigerator note was, according to Thomann, written because use of the fridges in the hotel's kitchen is granted only to Jewish guests traveling with kosher food.
"The refrigerators in the rooms are small, so I told them, 'you can store some small things with our stuff, but don't go in every time,'" she said, adding that the policy was necessary to ensure that hotel staff were able to carry out their other duties.
However, Thomann has admitted that she used the "wrong words" in the notes.
"On Saturday, I made a note and I used the wrong words," she told the Algemeiner. "I wrote 'for our Jewish guests,' and one of them wrote me an email asking me to take it down."
Thomann said the signs were removed on Sunday.
The notes have been condemned by Israel's deputy foreign minister, Tzipi Hotovely, who called them "an anti-Semitic act of the worst and ugliest kind."
Hotovely said Thomann should face criminal charges for writing them.
"[W]e must make sure that the punishment for incidents such as these will serve as deterrents for those who still harbor the germ of anti-Semitism," she said.
Thomann has denied accusations that she is anti-Semitic.
"We have lots of Jewish guests, and they have been coming here for 40 years," she said. "I would not take Jewish guests if I had a problem with them."
Meanwhile, an online petition has been launched against the hotel, gathering more than 500 signatures by the time this story was published.
"Please sign this petition for Aparthaus Paradies in Arosa (Switzerland) to stop their shameful anti-Semitism as displayed in their billboard, and furthermore to close the Aparthaus Paradies in Aros if Mrs. Ruth Thomann and the hotel staff don't change their attitude in respect to their Jewish guests who have to be treated like every other guest," the petition reads.
The incident isn't the first time Jewish guests have been treated in a less-than-hospitable way by European hotels.
In October 2016, a hotel in southern Germany faced a backlash on social media after an Israeli tourist claimed the facility canceled his booking over his nationality.
The guest shared a message from the hotel online, which clearly stated that it didn't want "guests from Israel." However, the hotel claims the message was simply a mistranslation.
You can share this story on social media: