Jewish summer camp in Washington slammed for welcoming kids with Palestinian flag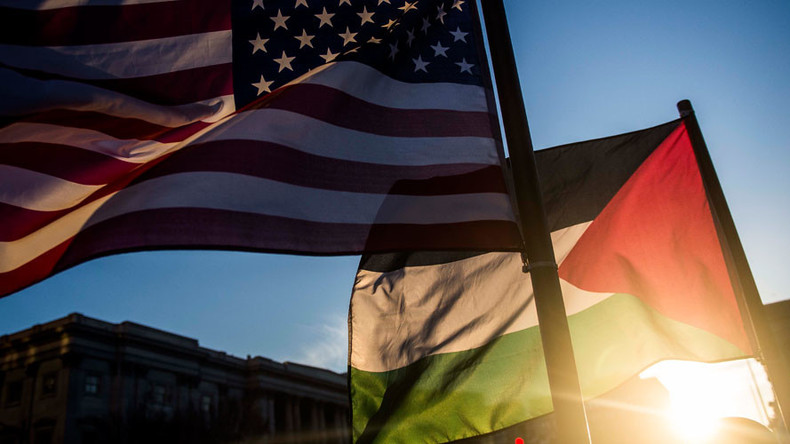 Jewish summer camp Solomon Schechter in Washington state was forced to apologize following backlash over its raising of a Palestinian flag to welcome Palestinian guests participating in the Kids4Peace program.
The decision to fly the Palestinian flag was meant to provide a "teachable moment" and serve "as a sign of friendship and acceptance," camp directors told parents in an email on Friday.
Last week, the Jewish summer camp hosted kids participating in the Jerusalem-based Kids4Peace program, which brings Jewish and Palestinian young people together for a few days to promote peace between the two peoples that have been in conflict with each other for decades.
What the camp saw as a gesture of "friendship and acceptance" has been met with an angry reaction among some in the Jewish community.
A group called the New Jewish Defense League wrote that the flag flying is how young American Jews are being "indoctrinated to be self hating Jews."
Activist Pamela Geller, who had previously expressed anti-Muslim views, compared it to "flying the Nazi flag and at German Jewish day school in 1938."
Eventually, Camp Solomon Schechter issued an apology on its Facebook page.
"We sincerely apologize that we upset some in our CSS and larger Jewish community by introducing the Palestinian flag into our educational program. Camp Solomon Schechter reiterates our unwavering support for the State of Israel as the Jewish homeland," Haaretz quoted the post on the camp's Facebook page, which the newspaper said was later deactivated for unknown reasons, as saying.
However, the Solomon Schechter camp's apology too did not go down well in social media.
"Sad that a Jewish camp felt the need to apologize for flying Palestinian flag as a goodwill gesture," wrote Rabbi David Mivasair.
We should applaud an explicitly pro-Israel Jewish camp that invites Palestinian kids to visit rather than shame them for flying a flag. https://t.co/C9nuQUZVsW

— (((Joshua Malina))) (@JoshMalina) July 31, 2017
Others resorted to sarcasm: "An apology just won't cut it. This situation could have blown out of control. Someone could have gotten respected!" – tweeted @MotionToStrike.
An apology just won't cut it. This situation could have blown out of control. Someone could have gotten respected! https://t.co/7wl97GLGjd

— Motion to Strike (@MotionToStrike) August 1, 2017
Two years ago, the Palestinian flag was raised for the first time at the United Nations headquarters in New York.
The international community has long called for a two-state solution in the conflict between the Israelis and Palestinians, in which the two peoples would eventually live in separate states.
Israel had formally agreed to the two-state solution but has yet to take any practical steps to make it happen.
The Trump administration said it wants to negotiate the "ultimate deal" between the parties, but has not provided any specifics of what that would entail.