Eurovision-winner Wurst pulls UK show after Syrian band members denied visas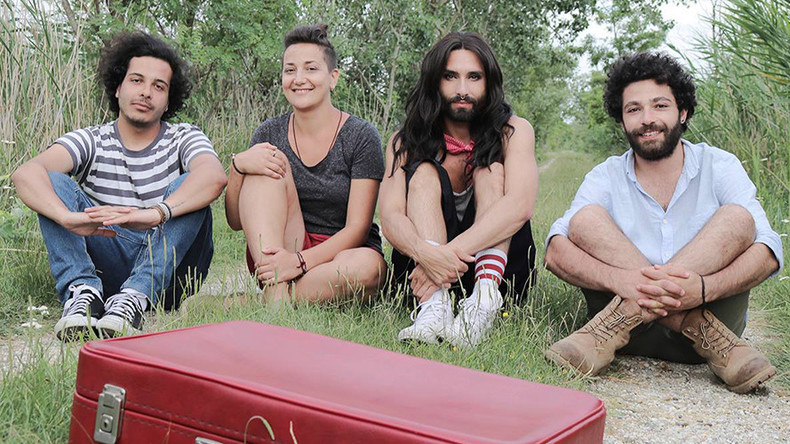 Conchita Wurst, who gained worldwide fame after winning the 2014 Eurovision song contest, called off her scheduled appearance at the Edinburgh International Festival after a three-member Syrian band with which she performs was denied entry to the UK.
Read more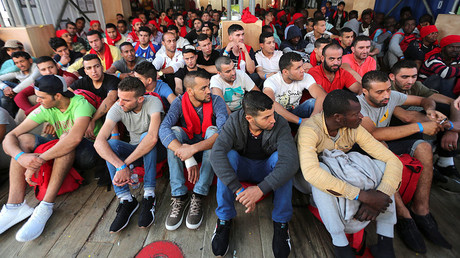 In a Facebook post on Friday, the Austrian pop singer explained to her fans that she decided to stay home out of solidarity with the members of Basalt, an alternative rock trio, the members of which "were unsuccessful in their visa application to enter the UK."
The group, currently based in Vienna, was founded in February last year by Amjad Khaboura, Noor Eli Khoury and Almonther Alshoufi, all ethnic Syrians.
"With a lot of disappointment for not being able to perform there because [of] the refusal of our visas, we wish everyone performing, visiting, and organizing the festival a great evening!" the group wrote on its official Facebook page, praising Wurst and organizers for voicing support.
The festival said in statement that although the group would not be able to present its show live to the festival-goers, the concert would still feature their act by including a specially-filmed introduction and performance.
READ MORE: 'Flawed EU govt policies' leave refugees stranded in Libyan 'living hell' – Oxfam
The organizers said they still hope Wurst and Basalt will make it to Edinburgh this year or "at some point in the future."
So far it is not clear what prompted the UK Home Office to turn down the musicians' visa applications. The artists themselves appear to be in the dark about the British authorities' motives.
"We just kept asking 'why?' How can this be allowed to happen? We were disappointed, saddened and totally heartbroken." Alshoufi, a former engineering student who took up music career in Austria, told the Times.
Ironically, the 'Rise like a Phoenix' singer and the Syrian newcomers were initially supposed to perform as part of the festival's 'New European Songbook' program, touted as "unique collaborations between established European musicians and artists recently arrived in the continent."
Shutting doors before Syrian musicians has cast a shadow over the reputation of the festival that sought to present itself as platform where different cultures and backgrounds intertwine, the director of Edinburgh International Festival, Fergus Linehan, lamented.
READ MORE: EU anti-migrant mission in Mediterranean led to more illegal migration & deaths – UK Lords' inquiry
"The symbolism [of the visa denial] is awful... It's particularly frustrating because of the whole point of the concert," Linehan told AFP, adding that he had extended "open invitation" to the artists meaning they be welcome at any future installment of the festival.
Read more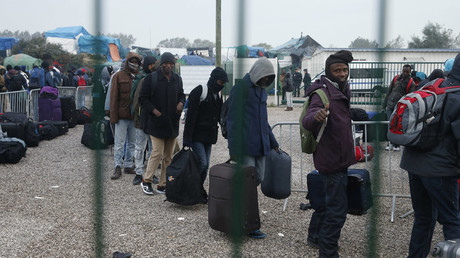 While the UK admission rules are famously tough, there is a provision facilitating access to the country for artists, performing at certain festivals, included by the Home Office in the so-called list of 'permit-free festivals'.
The Edinburgh International Festival, with its over-70-year history, is one of them.
However, while the musicians filed their visa application based on that very provision, according to AFP, they still did not succeed.
The rigidity of the UK immigration police, which poses a stark contract to more relaxed EU approach, has raised a few eyebrows before. In March, the UK immigration authorities reportedly denied a visa application to a female Pakistani politician because she was single. Her relationship status and the fact that she did not have any dependents reportedly was enough for the UK Visas and Immigration to conclude that the woman was unlikely to return back home from a Green parties congress.
READ MORE: Mass surveillance, deportations & nuclear weapons: What to expect from UK's new PM
UK Prime Minster Theresa May has been known for her tough stance on migration from the period when she was Britain's home secretary. Among one of her most controversial endeavors of that time is an advertising campaign encouraging illegal migrants to contact a helpline on how to leave the UK, which was deemed a total failure. She also proposed the term refugee to be narrowed, drawing the ire of human rights organizations.
In March this year, the Home Office unveiled new instructions that envision a review every five years if the country an asylum seeker originally fled is still unsafe to return.