'Flawed EU govt policies' leave refugees stranded in Libyan 'living hell' – Oxfam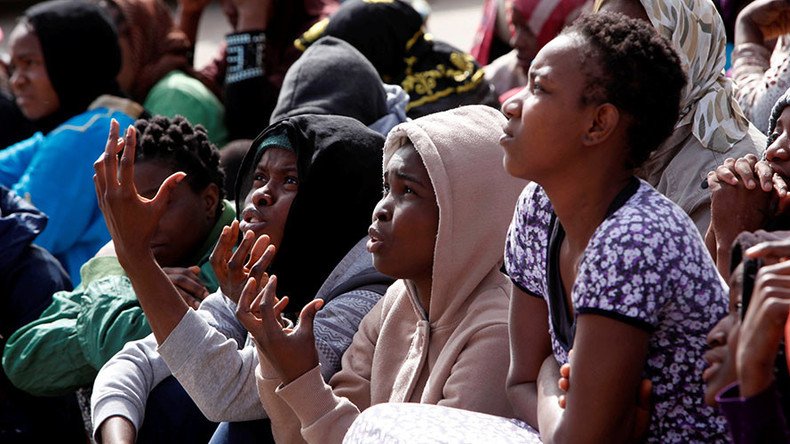 "Flawed policies" by EU governments amid the refugee crisis have left migrants trapped in "a living hell" in Libya, Oxfam said, adding that those trying to flee are being forced into slavery and face torture.
"Thousands of refugees and migrants face kidnap, slavery, torture and sexual violence in Libya before crossing the Mediterranean Sea to reach Italy – if they are not killed first," said a new report, 'You aren't human anymore,' by UK-based humanitarian group Oxfam.
Libya has become a major launchpad for asylum seekers who opt for a highly dangerous route through the Mediterranean while attempting to reach Italy.
According to Oxfam, some 95,000 have already reached the European coast in 2017. An Amnesty International report from July this year stated that migrant deaths in the Mediterranean have already passed the 2,000 mark.
Libya has turned into "an unstable state torn between militias with a weak central government," since the Western-backed toppling of Muammar Gaddafi in 2011, the report notes. It also calls the state merely a "breeding ground for gangs who kidnap, enslave and extort money from migrants."
Oxfam has lashed out at EU governments for "trying to keep migration at arm's length."
"Due to EU governments' flawed policies that aim to prevent people getting to Italy, thousands are trapped in the living hell that is Libya," Oxfam says, adding that the bloc should not forget that it is "a bastion of human rights."
In particular, it criticized the February 2017 agreement between Italian and Libyan authorities aimed at reducing the number of refugees opting for the risky journey from the African state to Europe.
The paper also slammed Rome for sending a naval mission to help the Libyan coastguard earlier in August to stop boats from leaving the North African country. Oxfam says the step simply represents "the latest attempt [by Italy] to keep people from reaching Europe."
The controversial EU-Turkey deal was also a target of the international humanitarian organization. Under the respective agreement, Turkey would crack down on people-smugglers, and also take in one Syrian refugee for each one admitted into the EU.
The deal "effectively outsources the problem by pushing Europe's borders to other countries," the report states. Roberto Barbieri, executive director of Oxfam Italy, said that the refugees are facing "yet another hell" in Libya and should be allowed to claim asylum in Europe with dignity.
READ MORE: 'We'll sink them': Angry activists threaten migrant traffickers' ships arriving in Sicily
The report also criticized the recent proposal by French President Emmanuel Macron to open processing centers in Libya, with Oxfam saying they "risk entrapping more people in a lawless and dangerous state."
Penny Lawrence, deputy chief executive at Oxfam GB, accused the UK of preventing asylum seekers from arriving from Africa. "The UK, along with other EU member states, has actively supported efforts to limit arrivals in Europe, trapping refugees and other migrants in a living hell," she added.
'The cell was full of dead bodies'
For many the "hazardous escape" from the North African country is not a matter of choice, but survival, according to Oxfam.
The document features some 160 testimonies from people who arrived in the Italian island of Sicily from Libya. They had spent months "being beaten, tied up like animals and sold as cheap labor in the slave trade," the report states.
According to the document, "all but one" of the women interviewed by Oxfam reported sexual violence. More than 80 percent said they suffered extreme violence or torture, while more than 70 percent witnessed the murder or torture of traveling companions.
"I was beaten on every part of my body and forced to collaborate in sexual violence perpetrated against the other women," one woman told Oxfam, adding that she lost her unborn child due to beatings she suffered from the gangs.
One teenager said that once he woke up in "a cell full of dead bodies." "I saw soldiers breaking the nose of one guy and beating him so seriously on his head that he lost his eyes."
"These testimonies paint a horrifying picture of the lives of refugees and other migrants in Libya. They are a damning indictment of Europe's efforts to keep people from escaping violence, slavery and even death," Barbieri said.
Yet six years after the fall of Gaddafi, Libya is no closer to political stability. The nation has been torn apart by fighting between various armed gangs, including terrorist group Islamic State (IS, formerly ISIS/ISIL), as well as two rival governments.
After Libya's main rival leaders agreed to a Paris-brokered ceasefire in July, French President Macron immediately hailed the step as "great progress."
"The cause of peace has made great progress today," Macron said following the talks.
READ MORE: 'West must be held accountable for Libya, apologize & leave it alone' – Gaddafi's cousin (EXCLUSIVE)
The Libyan people are still suffering because Western powers continue to fuel the ongoing conflict there, Ahmed Gaddaf al-Dam, the cousin of the slain Gaddafi, told RT on the sixth anniversary of the Arab Spring in February this year, adding that the West should apologize and leave Libya alone.
"It is clear to everyone what is now happening in Libya: total destruction, people fleeing their homes, mass hunger. Our country has descended into total darkness, and our people are enduring suffering," he said.
You can share this story on social media: