Yemen's national blood bank on verge of closing after losing Western funding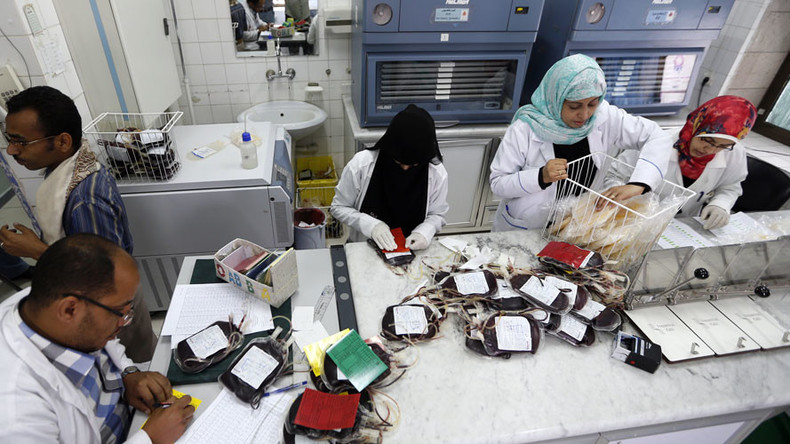 Yemen's national blood bank may cease operations after losing Western financial support. The center's closure would be a "catastrophe" for the war-torn country, the doctors warned.
The fate of the National Blood Transfusion Centre in the capital, Sana'a hangs in the balance after French medical charity Medecins Sans Frontieres (MSF, Doctors without Borders) announced that it is suspending its assistance to the Yemeni center.
"The center suffers from a complete shortage of supplies, including medical solutions, blood bags and medical needs," Dr. Adnan al-Hakimi, the blood bank's director, told Reuters.
"We have issued an appeal to all civil society groups, businessmen and anyone interested in charity work to save the lives of those who are ill, injured or wounded so the center would not stop," Hakimi added.
The closure of the facility will affect thousands of wounded in the conflict as well as patients suffering from various diseases, including thalassaemia, cancer, and kidney failures, the doctors warned.
"If the center stops, a catastrophe will hit the whole country," Munir al-Zubaidi, the National Blood Transfusion Centre spokesman, said.
Over 10,000 have been killed in the Yemini war. Civilian deaths spiked after the Saudi-led coalition began an air campaign in the country.
During the operation, Riyadh and its allies have faced numerous accusations of negligence towards human lives, and war crimes from various human rights groups.
READ MORE: 9 family members killed in alleged Saudi-led coalition airstrike in Yemen (GRAPHIC VIDEO)
The conflict has seen at least three million people displaced, with 70 percent of Yemen's 27 million people in need of urgent humanitarian aid, according to the UN.
The war-torn state is also facing a cholera epidemic, which International Committee of the Red Cross spokeswoman Iolanda Jaquemet described as "the largest… of our time" in an interview to RT, with "over 460,000 suspected cases, close to 2,000 dead."
An MSF spokeswoman said the group handed over its support for the Yemeni blood bank to the World Health Organization (WHO).
The WHO confirmed that the center was at risk of closing, and said it "was looking into ways of supporting" the blood bank.
READ MORE: Yemen war pushes country 'towards the edge of a cliff' – UN
MSF has been providing the National Blood Transfusion Centre with regular blood testing kits and other essential supplies since September 2015, when the facility was also at risk of closing.