Yemen war pushes country 'towards the edge of a cliff' – UN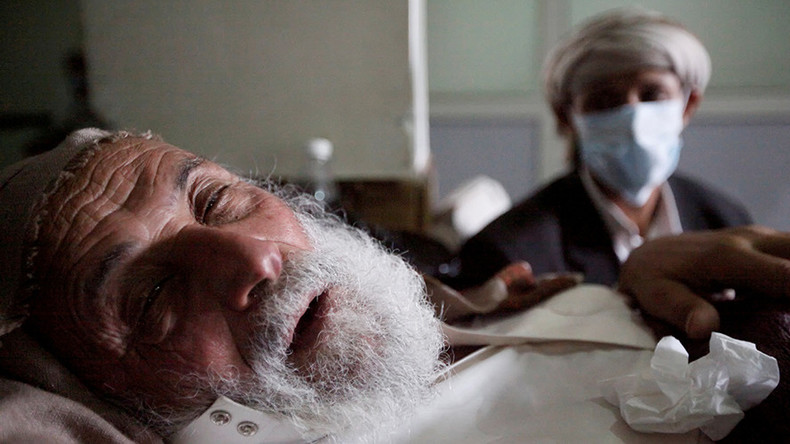 Yemen's ongoing conflict and a "man-made" humanitarian catastrophe has "no end in sight," the head of the UN Development Programme (UNDP) in the war-torn country has said, warning that nearly 7 million people are at risk of starvation.
After more than two years of conflict, Yemen, one of the poorest countries on Earth, is suffering on an unprecedented scale from the ongoing war.
As of August 1, around 70 percent of Yemenis are in urgent need of humanitarian aid. Roughly 60 percent have no prospects of securing their next meal as nearly 7 million "are close to slipping into a state of famine," Auke Lootsma, UN Development Programme (UNDP) Country Director said Tuesday.
"The current food security crisis is a man-made disaster not only resulting from decades of poverty and under-investment, but also as a war tactic through economic strangulation," Lootsma said.
Vital health infrastructure has been destroyed across the country amid the ongoing conflict. To make matters worse, the UNDP has in the last two weeks noted a meningitis outbreak in the country on top of the cholera epidemic ravaging the country. Some 1,900 people have already succumbed to cholera, with the UN having recorded almost 400,000 new cases in the past four months.
"The collapse of the health, water and sanitation sector due to a lack of salaries and damaged infrastructure" exacerbated the health situation in Yemen, Lootsma said.
Meanwhile, Save the Children, a UK-based charity, clarified that out of the 400,000 cases of cholera, children under the age of 15 account for roughly 44 percent of new cases. Minors constitute 32 percent of cholera related fatalities in Yemen.
"The tragedy is both malnutrition and cholera are easily treatable if you have access to basic healthcare," said Tamer Kirolos, Save the Children's Country Director for Yemen. "But hospitals and clinics have been destroyed, government health workers haven't been paid for almost a year, and the delivery of vital aid is being obstructed."
With "no end in sight," to the humanitarian crisis amid the ongoing conflict, the UNDP Country Director, compared the worsening situation in Yemen to a bus "racing towards the edge of a cliff," where "the one controlling the direction of the bus keeps going and pushes the accelerator, all but certain to crash."
More than 8,160 people have been killed and 46,300 wounded in airstrikes and fighting in Yemen since the Saudi-led coalition began its bombing campaign in 2015, according to official UN figures. Leading humanitarian organizations have singled out the aerial bombing campaign and blockade as the root cause of the horrific humanitarian situation in the country.
You can share this story on social media: