'Humanity can't continue to lose out to politics' – UN relief chief makes plea to save Yemen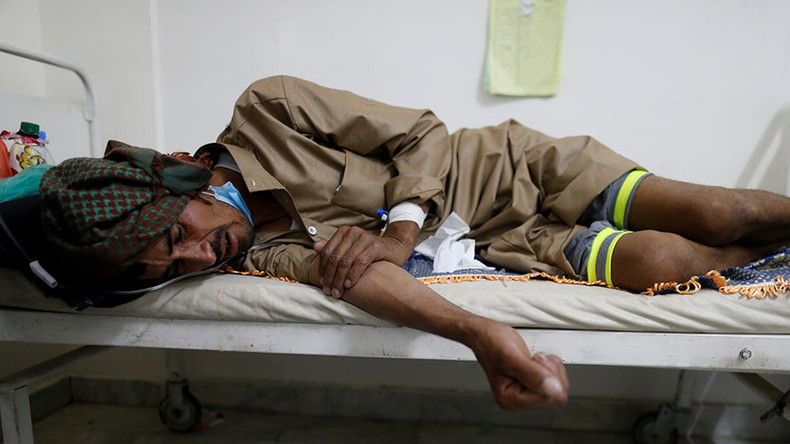 The top UN humanitarian official has condemned opposing forces in Yemen's civil war and their allies for destroying its health system and fueling a major cholera outbreak. He called for an immediate end to the air and sea blockade of the country.
"This is a man-made crisis, and the sheer scale of humanitarian suffering of the Yemeni people is a direct result of the conflict and serious violations of international law," Under Secretary-General for Humanitarian Affairs and Emergency Relief Coordinator Stephen O'Brien told UN Security Council in a statement on Wednesday.
The aerial bombing campaign in support of the ousted Yemeni president, Abd-Rabbu Mansour Hadi, was started by the Saudi-led coalition in March 2015. The campaign against the Houthi rebels and remnants of the country's military loyal to former President Ali Abdullah Saleh has had little to no military effect, but has resulted in over 10,000 civilian deaths, according to UN estimates.
The military campaign is also supported by a strict air and naval blockade on Yemen, backed by the US. It has drastically worsened the humanitarian situation in the war-torn country, effectively leading to the collapse of healthcare.
"Yemen is facing critical stoppages of hospitals and a lack of doctors and nurses. The health system has essentially collapsed, with an estimated 55 per cent of facilities closed due to damage, destruction or lack of funds," O'Brien said. "Some 30,000 health care workers have not been paid in nearly a year and no funding has been provided to keep basic infrastructure such as hospitals, water pumping and sanitation stations operating."
The blockade, constant fighting, critical lack of basic healthcare and warring parties' negligence towards civilian infrastructure have led to famine and a major cholera outbreak across the war-torn country.
"Seven million people, including 2.3 million malnourished (500,000 severely malnourished) children under the age of five, are on the cusp of famine, vulnerable to disease and ultimately at risk of a slow and painful death," O'Brien said. "Nearly 16 million people do not have access to adequate water, sanitation and hygiene, and more than 320,000 suspected cholera cases have been reported in all of the country's governorates bar one. At least 1,740 people already are known to have died from this entirely preventable disease – probably many more in the many very remote areas of Yemen we can't reach."
To improve the humanitarian situation in Yemen, O'Brien appealed to the UN Security Council with the same "call made last time I briefed this Council six weeks ago." His program consists of three main points: Paying Yemeni public servants, despite the fact that "the UN and partners cannot replace State functions," protecting Yemeni people and critical infrastructure and lifting air and naval blockade in order to "both humanitarian and commercial imports in a predictable and stable manner."
"If only I didn't have to repeat [the call] – there has been change since then, only for the dramatically worse," O'Brien said.