'We fear for our families': Naples residents film confrontation between migrants & soldiers (VIDEO)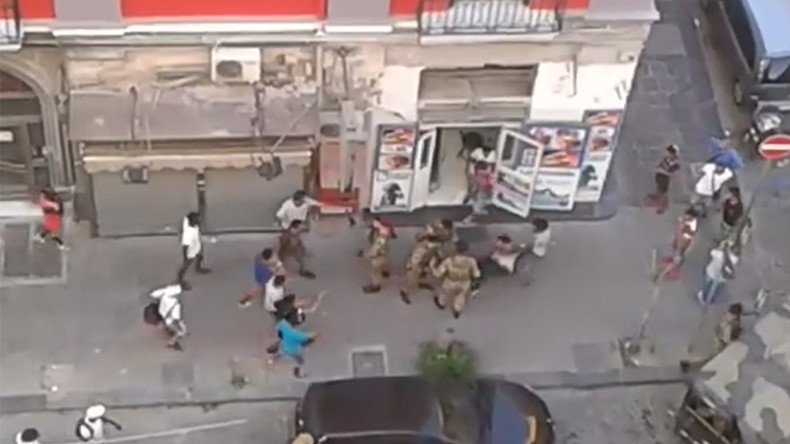 A video showing a confrontation between Italian soldiers and immigrants on the streets of Naples has gone viral. In the clip, the troops appear to arrest a man before being confronted by others, who attempt to wrest the detained man free.
READ MORE: Italy gets OK from Tripoli to deploy boats to combat human traffickers from Libya
The grainy video was posted to the Comitato Quartiere Vasto (the Vasto District Committee) group on Facebook, representing residents living in the Vasto area of central Naples near the Piazza Garibaldi.
The video shows soldiers arresting a man, who looks to be of African descent and is lying on the ground. Others are seen approaching the group and attempting to pull the detained man away. Eventually, two other black men succeed, but the patrol catches up to them and encircle the original suspect, while more onlookers arrive. Somebody is heard shouting, "Do not beat him!"
It is not clear what the man was being arrested for, nor whether he was being abused by the soldiers in any way. Another video taken at the same scene shows no sign of violence towards the soldiers.

The incident has provoked a sharp reaction from local residents.
"Abandoned and betrayed!" wrote Lello Cretella, the user who posted the video. "Episodes like these happen every day in our neighborhood and everyone pretends not to see!"
"We feel alone and abandoned... we fear for us and our families!"
Since being uploaded on Sunday, the video has been shared by hundreds of users, including right-wing politician Matteo Salvini.
"Men in our army are surrounded and attacked by dozens of immigrants who wanted to prevent the arrest of one of them," he wrote. "We are now in urban warfare."
Matteo's party, the Northern League, once advocated separatism from southern Italy, including Naples, which it saw as backward, but is now trying to court southern voters on an anti-immigration platform.
"The tension is very high every day," said Naples councilor Alessandro Gallo, commenting on the video. "However, something very serious is happening with the army being surrounded. It is necessary to intervene."
The soldiers in the video had been patrolling the streets as a part of Operation Safe Roads, launched in 2008, which deployed thousands of troops on the streets of 38 Italian cities to help safeguard sensitive targets and patrol against petty crime. The same year extra troops were also deployed to the Naples and Campania regions to help quell gang violence by the Camorra, the local mafia. In September 2008, race riots broke out in a nearby town, Castel Volturno, after Camorra killers shot dead six West Africans and one local arcade owner at random in an attempt to intimidate immigrant drug gangs.
Lying across the Mediterranean from North Africa, Italy is a key point of entry for refugees and asylum seekers to Europe, who mainly leave the continent through Libya. The UN's International Organization for Migration (IOM) estimates there are between 700,000 and one million people currently in Libya awaiting their chance to get into Europe. As of June, the United Nations' Refugee Agency (UNHCR) said that over 2,000 people have died this year trying to make the dangerous crossing.
READ MORE: 'No smuggling charges pressed': Activist aboard 'preventatively' seized migrant rescue ship to RT
You can share this story on social media: