Italy gets OK from Tripoli to deploy boats to combat human traffickers from Libya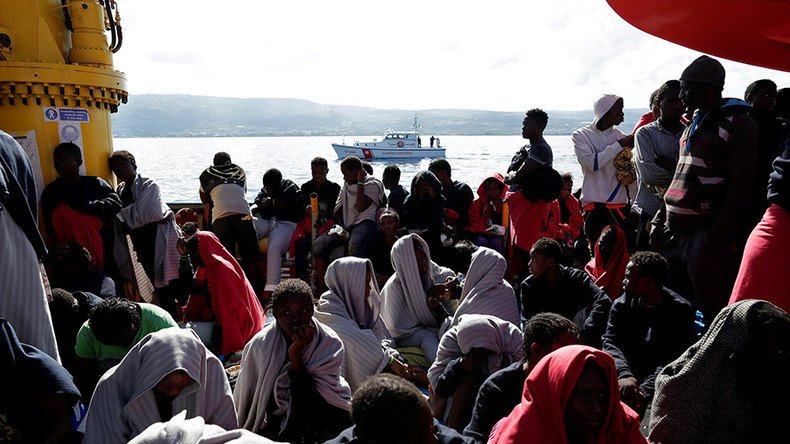 The Italian government has been officially invited by the UN-recognized government in Tripoli to assist in anti-human trafficking operations designed to help stem the flow of migrants across the Mediterranean in an unprecedented move.
A plan for the rapid deployment of Italian ships could be presented to the Cabinet in Rome as early as Friday, with a parliamentary vote on the issue possible as early as next week, Reuters reports.
Prime Minister Paolo Gentiloni held a meeting with military chiefs and ministers Thursday to discuss "security, immigration and the Libyan situation."
"It pleases me to know there is a lot of support in Europe to this new possibility," he said.
Libya has continually refused access to EU ships, including those involved in Operation Sophia, which began in 2015 and targets smugglers operating in the area.
An estimated total of 600,000 migrants have reached Italy via the central Mediterranean route since 2014, a 7 percent increase for the same period year-on-year, reports the FT. Over 93,000 have arrived safely this year alone, but 2,208 people have died making the crossing since January, according to statistics from the International Organization for Migration.
Under the Law of the Sea, migrants rescued in international waters are brought to Italy and not returned to Libya as the country is not considered a safe place. To counteract this, Italy is calling on the UN to increase its presence in Libya and operate migrant camps that respect human rights.
Libya's UN-backed Prime Minister Fayez al-Sarraj met with General Khalifa Haftar, who controls vast swathes of eastern Libya, in Paris on Wednesday in an effort to establish a peace deal that would pave the way for peaceful elections next year.
French President Emmanuel Macron chaired the meeting, which resulted in a ceasefire agreement being signed.
"It is very relevant news in the fight against human trafficking in Libya, if we respond positively. I believe this is necessary," said Gentiloni said, playing down rumors of a rift between France and Italy over the proposed measures.
"If steps forward are made in Libya, the first country to be happy about this in Europe will be Italy," he added.
You can share this story on social media: