Nigerian 'Rambo' suspected of killing & torturing migrants in refugee camp arrested in Italy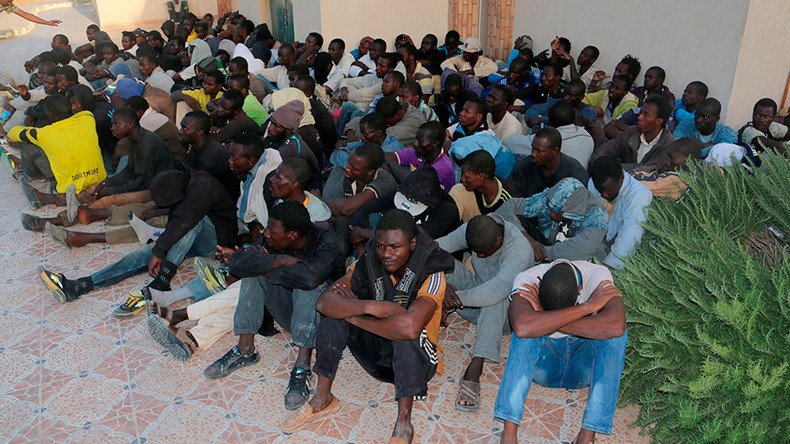 Italian police have arrested a suspected human trafficker following allegations that the man tortured, sexually abused and murdered migrants in a refugee camp in Libya.
Detectives in Sicily obtained witness testimony alleging that Nigerian national – John Ogais, aka 'Rambo' – killed at least two men at a camp in Libya, as well as tortured other migrants in the makeshift prison. 'Rambo,' 25, first came to the authorities' attention after one of his alleged accomplices, Ghanaian Sam Eric Ackom, was arrested last March.
"While I was inside that ghetto, where it was impossible to escape, I heard that a man who called himself Rambo had killed a migrant," said one witnesses according to the police statement quoted by AFP.
"My cousin and others tried to escape but they were caught and tortured nearly to death."
Another witness said he saw one of the men "killed by Rambo in front of the victim's brother. When he killed the man Rambo pointed a gun at the brother and told him not to tell his family anything and to get them to immediately send money," for their release.
Ogais was tracked and arrested at the reception center in Isola di Capo Rizzuto in Calabria, south Italy, on charges of human trafficking, being part of an international smuggling ring, rape and aggravated murder, police said Tuesday, according to the local Il Gazzettino Di Sicilia.
War-torn Libya is a key hub for migrants making their way from Africa to Europe via Italy. Those attempting the route put themselves at risk of not only the physical perils of the journey itself, but also falling into the hands of predatory criminals who kidnap them for ransom.
READ MORE: Over 2,500 migrants rescued in Mediterranean in 2 days – UN
The UN's International Organization for Migration (IOM) estimates there are between 700,000 and one million people currently in Libya awaiting their chance to get into Europe.
And as of June this year, the United Nations' Refugee Agency (UNHCR) said that over 2000 people died trying to make the dangerous crossing.
You can share this story on social media: