Over 2,500 migrants rescued in Mediterranean in 2 days – UN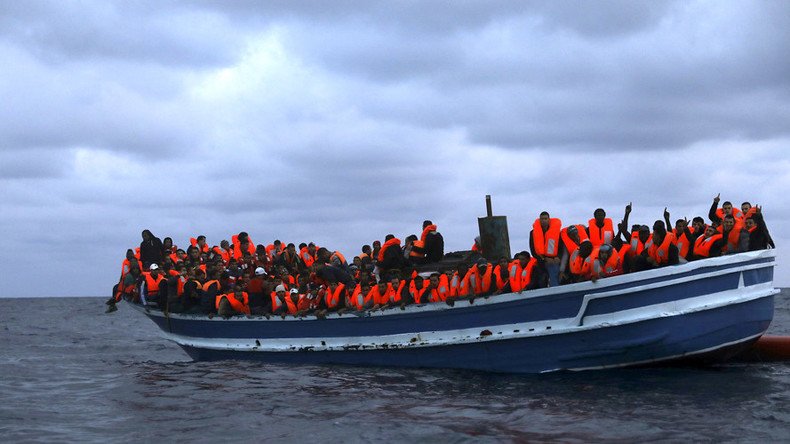 More than 2,500 migrants were rescued off the Libyan coast in the past 48 hours while attempting to cross the Mediterranean in "flimsy dinghies," the UN refugee agency has said. At least eight people have died and dozens are feared missing.
"Eight corpses have been recovered so far and at least 52 people are feared missing from two incidents involving large numbers of people on flimsy dinghies off the coast of Libya on Saturday," Director of Europe Bureau of the UN Refugee agency (UNHCR) Vincent Cochetel said in a statement, citing the Italian Coast Guard.
In all, over a dozen search-and-rescue operations, coordinated by the Italian Coast Guard, were launched over the weekend. The rescued migrants are expected to be disembarked in Italy over the next few days, the agency added.
"UNHCR applauds the rescue efforts by European government authorities, the Italian Coast Guard and NGOs, but is deeply saddened that the death toll continues to rise," the statement reads.
Over 1,770 people are estimated to have perished or gone missing while trying to cross the Mediterranean so far this year, according to agency's estimates, while more than 50,000 migrants reached Italian shores, most of them through Libya.
The death toll among migrants trying to reach Europe is believed to be much higher, according to the UNHCR, though, as many of them presumably die in the Sahara desert without even making it to the Libyan coast.
The migrant death toll is expected to spike in the next few months with the beginning of summer sailing season, the agency warns.
While urging to strengthen international efforts to save people attempting to cross the Mediterranean, UNHCR stated that the "solutions cannot just be in Italy." Italy has on numerous occasions said that it does not enough resources to deal with the migrant influx from Libya.
"The mixed flows of people through East and West Africa towards Sudan, Niger and Libya continue unmanaged, and cruel smuggling networks flourish," the statement reads.
"We urgently need renewed efforts to find different solutions for refugees and migrants in the countries they cross before they reach Libya, given the insecurity in that country and vulnerability of people on the move to horrific exploitation and abuse."
The agency also called for the development of "alternative and safe pathways" so that the people would not "undertake such dangerous journeys" to Europe. "For those in need of international protection, alternatives include family reunification, resettlement, refugee scholarships and private sponsorship," the statement reads.
The proposed "alternatives" echo the measures discussed by G7 leaders during a recent summit in Sicily, with a focus on providing greater assistance to African countries to encourage potential migrants to stay home instead of setting off on the dangerous journey to Europe.
No concrete plan of action, however, was agreed upon during the summit, as the leaders only managed to "reaffirm the sovereign rights of states to control their own borders and set clear limits on net migration levels."
You can share this story on social media: