Hunger boosts global migration & armed conflict, UN first-of-kind study says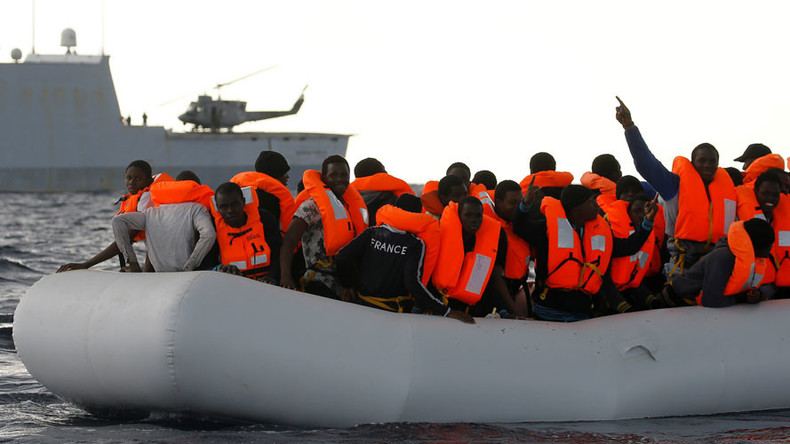 A new report from the UN World Food Programme (WFP) has found that food insecurity is accelerating global migration and armed conflict as millions across the globe are facing starvation and fleeing their homes.
The study is the first of its kind to comprehensively analyze the link between food insecurity and migration, according to the WFP. It employed quantitative and qualitative research methods while convening focus group discussions with migrants in Greece, Italy, Jordan, Turkey, and Lebanon.
The migrants were from 10 different countries across East Africa, West Africa, Asia, and the Middle East. The largest numbers of participants were from Afghanistan, Bangladesh, Iraq, Nigeria, Senegal, Sudan, Syria, and The Gambia.
"Such discussions provided first-hand accounts regarding the decision-making process to leave, and provided valuable information on the situation in countries of origin, the triggers for migration, routes taken and future intentions..." the report states.
According to the organization's findings, almost two percent of people are forced to migrate with "each one percentage increase in food insecurity in a population."
That, in return, would see a country which is experiencing "rising levels of food insecurity and conflict will experience greater outward migration, or movement of people away from their homes," the WFP wrote in a press release.
Food insecurity is an ongoing cycle for many who choose to migrate, with the WFP noting that once a migrant's journey has begun, they are faced with lack of employment and little to no access to food and other humanitarian assistance. Thus, they feel compelled to continue to move on.
"As people seek to reduce their food insecurity through migration, the act of migration itself can cause food insecurity, given the costs and often hazardous conditions along the journey," the WFP said.
The organization also found that food insecurity is a major cause for the occurrence – and intensity – of armed conflict.
"Food insecurity is one of the most important and significant determinants of the incidences of armed conflict. In other words, higher levels of undernourishment contribute to the occurrence and intensity of armed conflict," the report states.
The paper also revealed that those who are displaced often do not want to move from their homes, and try to stay as close to their place of origin as possible. For example, nearly nine out of 10 African migrants settle in Africa, while eight out of 10 Asian migrants remain in Asia.
Almost every Syrian participant in the study had a strong desire to return to their home country if the situation stabilized and became a safe place to live. However, many spoke of the dire conditions they faced inside the war-torn country.
"My kids were dying in front of my eyes; the men had to join extremist groups to be able to feed us. It was the only option," one Syrian woman told the WFP.
Another woman who left Syria said she and her family "had to eat grass to survive," and that her children "stayed up all night crying because they were hungry."
The report recommends that the international community "invest in food security and livelihood at or near people's place of origin," noting that doing so may prevent further displacement, reduce forced migration, result in more cost-effective humanitarian interventions, and yield greater socioeconomic benefits.
The Friday report came as the charity Stop Hunger Now Southern Africa warned that the famine sweeping South Sudan and its neighbors could claim the lives of six million people.
"It's pretty gloomy. We're seeing a lot of confusion amongst the NGOs and governments in terms of what needs to be done," the charity's chief executive, Saira Khan, said at the World Economic Forum on Africa in Durban, South Africa.
"It's a difficult time for that region – and if we don't do anything we're going to have six million people dead at the end of this year because of famine," she continued, as quoted by AFP.
A total of 20 million people are at risk of starvation and facing water shortages in South Sudan, Somalia, Nigeria, and Yemen, the UN stated in March, adding that it is the "world's largest" humanitarian crisis since the end of World War II.
The report's release also comes as Europe continues to struggle with a crisis which saw 1.6 million refugees and migrants reach the European Union in 2014-2016, leading to conflict between member states on how to handle the influx.
The year 2015 saw a record 65.3 million people uprooted worldwide, according to UN data.