Footage of German 16yo 'ISIS bride' capture emerges online (VIDEO)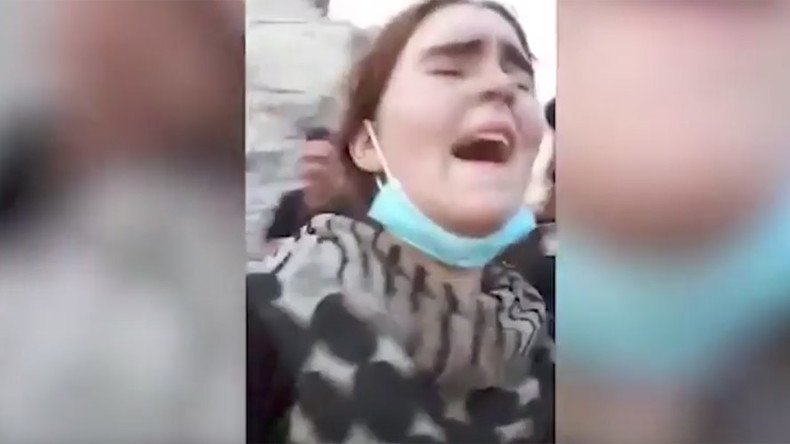 The video of the capture of a runaway 16-year-old German girl who fled her home state and joined ISIS has emerged online. Locals from her hometown told RT that the teen deserves a second chance, expressing concerns over the radicalization of German youths.
The footage shows the visibly scared and partly crying girl paraded through the street and the baying Iraqi soldiers holding her by the arms.
Linda Wenzel, dubbed the "Jihadi Bride" or "ISIS bride," was snatched in July in the ruins of Islamic State's (IS, formerly ISIS/ISIL) former "capital" Mosul, and is now being held in an Iraqi prison.
She may face the death penalty for joining the terrorist group.
The girl is originally from a small town in eastern Germany, Pulsnitz, near Dresden. She converted to Islam at the age of 15 after getting radicalized online, fled to Iraq and apparently married a Chechen IS terrorist.
She now says that she wants to return to Germany and wishes she had never joined the terrorist group. German authorities are working with the girl on the ground in Iraq, and she is receiving consular support, Reuters reported.
Meanwhile, the locals from her hometown believe that the teenager deserves to come home and start life anew, RT's Peter Oliver found.
"The girl is 16, she got into all this mess at 14, via the Internet. I think she should return. Everyone has a right to make a mistake, everyone should get a second chance," a local man said.
"If you look at Linda's case, it's clear that young people in our country aren't able to defend themselves from extremist ideology. This has led to a situation where a 15-year-old girl is ready to fight in the so-called holy war," another local resident said.
Currently, there are some 900 Germans fighting in Iraq and Syria alongside ISIS, and about one-fifth of those are women, according to the latest data reported by Der Spiegel.
In the wake of terrorist attacks in Germany over the past year - some of which are blamed on Islamist supporters - Hans-Georg Maassen, the head of the German domestic intelligence service (BfV), warned in July the country is likely to see more such assaults.
His remarks came as he presented the annual report on threats to the state, which said that some 24,400 Islamists remain in Germany. The number included around 10,000 Salafists – an ultra-conservative offshoot of Sunni Islam.
You can share this story on social media: