Germans are more afraid of climate change than terrorism or mass immigration – poll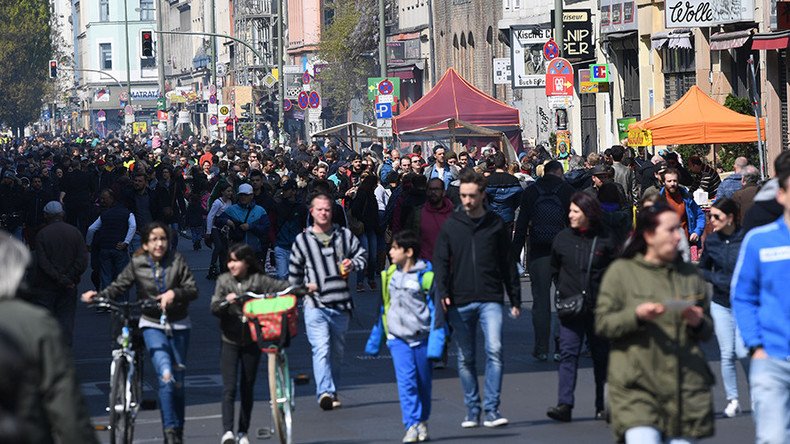 Most Germans consider climate change a much greater cause for concern than such headline-grabbing issues as terrorism or the refugee crisis, a recent poll has showed.
Climate change surprisingly emerged as Germany's greatest fear as 71 percent of respondents designated it as a particular source of serious personal concern, the poll conducted by the Kantar Emnid opinion research center on commission from the German Funke Media Group revealed.
The future state of the environment left behind such pressing issues as the threat of terrorist attacks or the possibility of new wars, which were identified as reasons for unease by 63 and 65 percent of respondents respectively.
The massive immigration and subsequent refugee crisis that repeatedly hit the headlines in the German and international media turned out to be even further behind (45%) on the list of the Germans' anxieties, surpassed by old-age poverty.
Potential unemployment turned out to be the least worrisome problem for Germans, as only about one third of respondents said it gave them cause for concern. Slightly more than 60 percent of those polled said they were concerned with the present crime rate in Germany.
Supporters of the populist anti-immigrant Alternative for Germany (AfD) party were the only ones who described the immigration and refugee crisis as their primary concern as 90 percent of them called it their biggest fear, the survey found. The backers of the Left Party seemed to be less concerned about the environment and more about potential poverty in old age.
"Environment and climate protection have already greatly mattered to people in Germany for years," Torsten Schneider-Haase, head of the political research department at Kantar Emnid center told the Funke Media Group, commenting on the survey results.
He added that "the fight against climate change has been understood as a cross-party effort," explaining why supporters of most major German parties described it as their primary concern as well as why support for the German Green Party, which made climate change its main political agenda, remains relatively low.
He also said that "security-related topics still play a significant role," adding that issues related to "the external, internal and social security" still occupy the minds of the Germans. "A party such as [the German Chancellor Angela Merkel's Christian Democratic] Union (CDU), which is considered to be competent in the security issues, is in a good position ahead of the forthcoming elections," he concluded.
The poll results come at a time when Germany faces an increased security threat posed by various extremist groups.
The country endured several high-profile terrorist attacks last year. The most notable of these happened in December, when a Tunisian asylum seeker, who pledged allegiance to Islamic State, plowed a truck into a Berlin Christmas market, killing 12 people. Before that, in July, a Syrian refugee detonated an explosive device outside a music festival in the town of Ansbach, killing himself and injuring 12 others. In another July 2016 incident, an Afghan teen attacked train passengers in central Germany, leaving five people injured.
Islamic State (IS, former ISIS/ISIL) claimed responsibility for all the attacks.
German media has repeatedly reported about terrorist suspects plotting attacks on German territory over the course of the year. In early July 2017, Hans-Georg Maassen, the head of the German domestic intelligence service, the BfV, warned the country is likely to see more terrorist attacks carried out by Islamist jihadists.
His remarks came as he presented the annual report on threats to the state, which said that some 24,400 Islamists remain in Germany. The number included around 10,000 Salafists – an ultra-conservative movement within Sunni Islam, followers of which have been prone to terrorism.
However, it appears that Islamist extremism is not the only threat to Germany's security. Another government report released by the German interior ministry in June, says that more than 460 far-right extremists with arrest warrants are still at large in Germany. Ulla Jelpke, a lawmaker for Die Linke (The Left) party, said the figure indicates the presence of an "established Nazi underground."
Left-wing extremism also hit the headlines in Germany, particularly after the G20 summit in Hamburg which saw violent clashes between left-wing radicals and police. The violence left almost 500 security officials, including 180 federal police officers, injured, according to the German Interior Minister Thomas de Maiziere.
READ MORE: 12 dead, many injured as truck plows into Christmas market in Berlin in likely terrorist attack
Following the G20 riots, German politicians demanded a radical change of approach toward violent protests as well as to left-wing extremism.
Meanwhile, a recent poll conducted by YouGov and Statista found that some 81 percent of Germans believe their country has a growing problem with political extremism – both far left and far right – with 78 percent of respondents saying the German government has lost control of dealing with the problem.
You can share this story on social media: