Anti-sub defense, minesweeping ops on agenda at NATO's Baltic States war games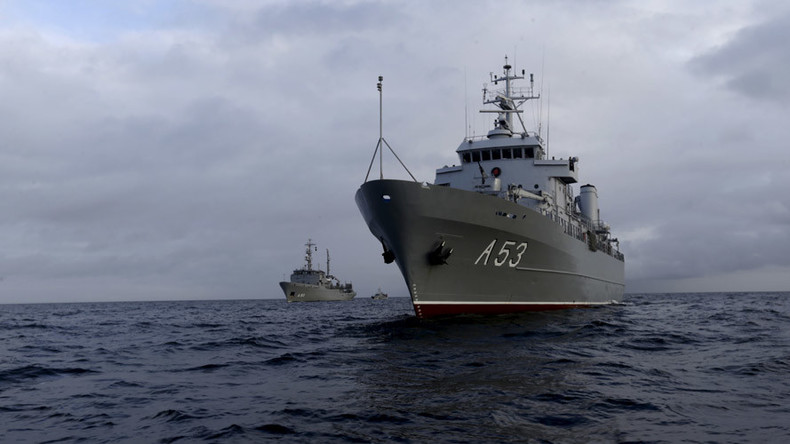 The Baltic Naval Squadron (BALTRON) annual naval war games kicked off Monday, the Lithuanian Ministry of Defense announced, local media reports. War ships from three NATO states are set to practice various military tactics amid the bloc's build-up near the Russian border.
Starting from Tuesday, warships from Latvia, Lithuania, and Germany will take part in the BALTRON Squadron Exercise 17/2 in the Baltic Sea and Lithuanian territorial waters.
Over the course of five days, the vessels will practice naval maneuvers, submarine target defense, communication, as well as search-and-rescue and minesweeping operations under the supervision of Lithuanian Navy Commander Tomas Skurdenis.
Taking part in the exercise will be the Lithuanian LNS Jotvingis N42 ship, Suduvis M52 and Kursis M54 minehunters, Aukstaitis P14 and Selis P15 patrol ships, Sakiai rescue vessel and H21 harbor cutter in the exercises, while the Germans will use a Pegnitz M1090 minesweeper.
The Latvian contingent will consist of its Rusins minehunter ship and Varonis support vessel.
The BALTRON naval squadron was inaugurated in 1998 and comprises the navies of Latvia, Estonia, and Lithuania, with each contribute one to two minesweeping vessels to the group. Working under the NATO umbrella, its stated purpose is to "minimize mine hazards, enhance security of the Baltic States territorial waters and help to remediate environmental damage in the territorial waters and economic zones of Estonia, Latvia and Lithuania."
The exercises come amid a heightened period of NATO build-up and military activity in the Baltic States and Eastern Europe, which has intensified since the Ukrainian crisis. In June, 5,300 troops from 10 NATO countries participated in the 10-day Iron Wolf military drills in Lithuania, with the stated purpose of deterring the perceived "Russian threat."
Part of the drills took place on a 104-kilometer (64.6-mile) patch of land in the Suwalki Gap, which borders the Russian exclave of Kaliningrad. Around 1,500 troops took part in the drills, which were aimed at training them to respond to potential "aggression."
Russian officials have repeatedly warned that such behavior could be seen as provocative and undermine regional security. In July, Russia's permanent representative to NATO, Aleksandr Grushko, said that the alliance's military activities near the Russian border pose a threat to national security.
"It's clear for us that such activities not only ensure a reinforced military presence of the allies in the immediate vicinity of Russia's borders but in fact represent an intensive mastering of the potential theater of military operations, accompanied by the development of the necessary infrastructure," Grushko told reporters.
Claiming that the "growing NATO military presence in Eastern Europe undermines stability in the region," Grushko said that Moscow cannot leave such steps unanswered and will "undertake necessary steps to boldly defend our interests."