Putin ignores wet shoes warning to release batch of endangered fish into Lake Baikal (VIDEO)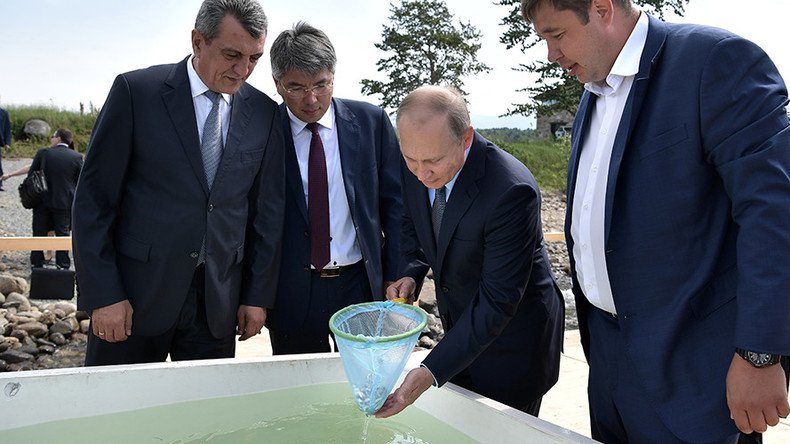 While visiting the world's biggest freshwater reservoir, Lake Baikal, to discuss its environmental issues, Russian President Vladimir Putin released 50,000 fry of the omul, a unique native species.
Omul is a trademark local delicacy, and the whitefish species has been intermittently endangered since the 1950s.
Putin was visiting Rybozavod Baikal, the local fishery that was once responsible for depleting the population, but now farms omul and promotes sustainable farming with help from private and state funding.
Ignoring warnings from local officials about getting his shoes wet, the Russian president first took a small scoop net and let several juveniles out into the stream, and then pulled a lever, freeing the water from a tank containing a colony of thousands of omul fry.
Once the photo op finished, Putin took on a somber tone.
"We need to ensure a system of tight control over the lake, and I have demanded that the state prosecutor takes an in-depth look into illegal and ecologically-harmful activities in Baikal," he said during a media briefing.
While strict omul quotas exist, local media reports that these are often circumvented by abusing a loophole that allows the indigenous population, to whom omul is a diet staple, to produce unmonitored catches and sell them on the open market at a price of about $5 per kilo.
But the problems go beyond saving just one kind of fish.
Omul is one of over 20 fish species that are unique to the 1,500-meter-deep Lake Baikal, while in total more than 1,000 organisms are not found anywhere else but its cool, dark waters.
The most notorious Soviet-era source of local pollution, the paper plant, was shut in December 2013, but Putin noted that other factories on the shores of the lake use "worn out filtering systems," while "60 percent of the pollution comes from run-off from housing."
"Saving Baikal is a national priority," Putin told the media. "We must liquidate the impact of the irrational and irresponsible economic activity in the area, to make sure that nothing like this happens in the future, and to repair the damage that has already been done."
You can share this story on social media: