Firefighters launch dramatic cable car rescue after traumatic crash (VIDEOS, PHOTOS)
Published time: 31 Jul, 2017 16:55
Edited time: 1 Aug, 2017 08:45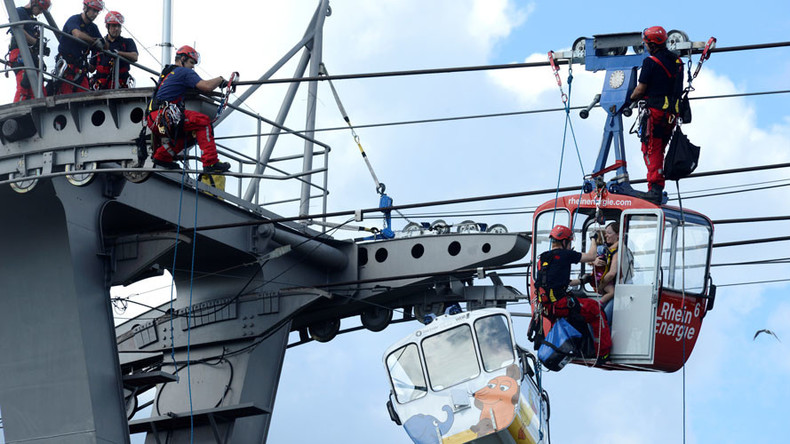 The fire brigade were forced to abseil dozens of passengers to safety after a cable car crashed over the river Rhine in the German city of Cologne.
One of the gondolas on the cable car system smashed into a support pillar, leaving 65 people dangling in the small cabins hanging 40 meters (131ft) above the river, Kölner Stadt-Anzeiger reports.
The fire brigade were forced to engage in a spectacular rescue effort where they lowered the passengers safely to the ground. Children were seen clinging to their parents as rescue workers guided them to safety.
READ MORE: Over 80% of Germans see 'growing problem' with political extremism – poll
Other people were rescued via extendable ladders attached to fire trucks at the river bank. A pregnant woman and a man were slightly injured in the rescue effort, however, no other injuries were reported.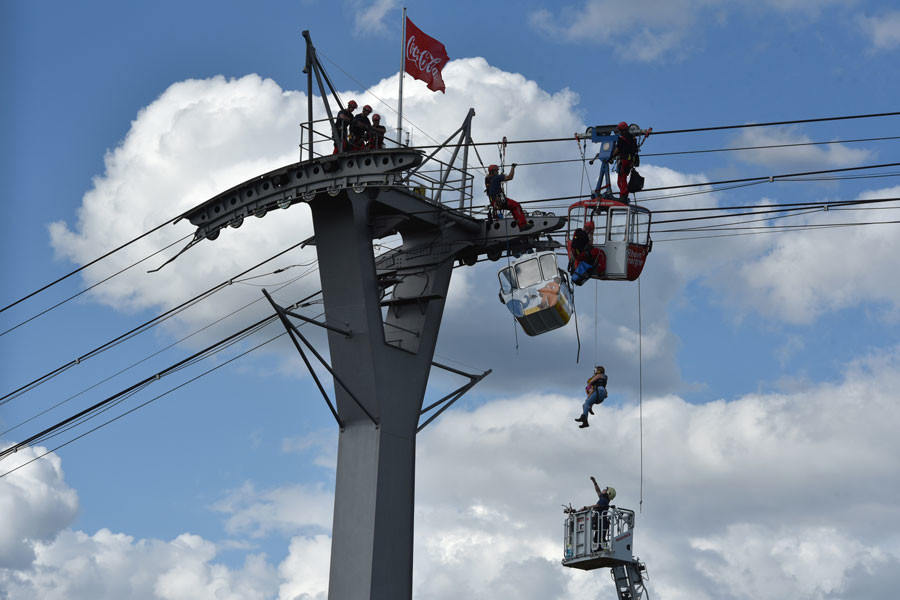 Coincidentally, reports in German media reveal that rescue teams in Cologne had practised for an incident on the cable cars just a week ago.
The manager of the cable car company, Thomas Miebach, said they do not know how the incident occurred but he insisted that the cable cars are one of the safest methods of transportation in Cologne.
READ MORE: 'Simply racism': Outrage after German gym bans ethnic minorities over terrorism fears
The mayor of Cologne, Henriette Reker, paid tribute to the fire brigade for their work: "I would like to thank the Cologne fire brigade for their great dedication. This meant that the passengers could be rescued quickly. My thoughts were with the children and adults, who had to wait courageously and patiently for many hours."
Ich danke unserer Feuerwehr und zahlreichen Einsatzkräften aus der Region. Zuversichtlich, dass Einsatz vor Dunkelheit abgeschlossen ist. HR pic.twitter.com/hped7OStbe

— Henriette Reker (@HenrietteReker) July 30, 2017
An investigation into the cause of the emergency was launched on Monday morning as a team of experts worked on getting the cable car system working again.