S. Korea sets up task force to review WWII sex workers deal with Japan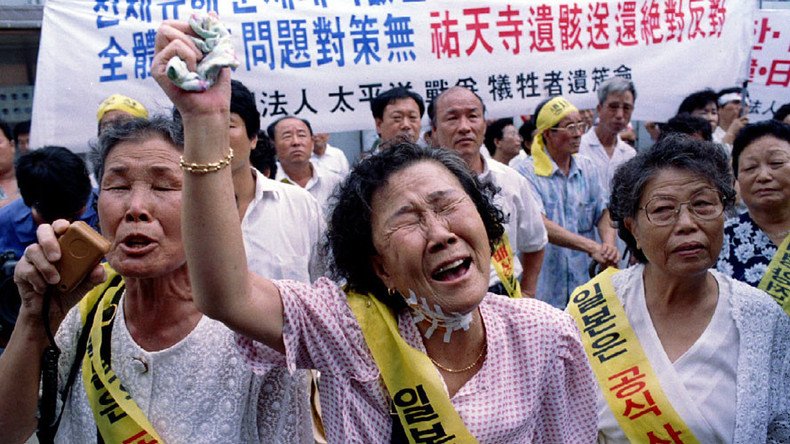 South Korea's Foreign Ministry has announced the establishment of a special unit to review a deal clinched with Tokyo in 2015 over Japan's mobilization of Korean women as sex workers during the Second World War.
The task force consisting of nine members will now evaluate the process before signing of the document that's been dubbed 'the comfort women deal'. A respective statement has been published on ministry's website.
The agreement – aimed at putting an end to the decades-long dispute between the two nations – has come under fire during the campaign by current South Korean leader Moon Jae-in for lacking an official apology by Japan and the actual acknowledgment of what Seoul views as forced sexual enslavement of Korean women in the course of World War II.
The newly-established team is headed by Oh Tai-kyu, former journalist and adviser to the president. It will also include experts on diplomacy, human rights and international law, as well as ministry officials.
The task force is to present the results of the evaluation by the end of the year, according to the ministry. Once the task force's verdict is in, the president will make the final decision on the agreement.
It should be noted that for once, North Korea and South Korea were united in their protest against the 2015 deal: KCNA and Yonhap agencies reported a week ago that women's organizations in both countries expressed their outrage and urged for the revocation of the deal.
In mid-July, the Moon administration announced that South Korea would establish a "comfort women" memorial day for the victims in 2018.
However, Tokyo protested the potential move, with a Japanese Foreign Ministry official saying "As we have been pursuing a future-oriented Japan-South Korea relationship, we cannot allow [Seoul] to cover old ground," the Japan Times reported.
Up to 200,000 Asian women – mostly from Korea, but among others also from China and the Philippines – were mobilized by the Japanese military to work in front-line brothels, according to the data given by the Korea Herald. Korea was under Japanese colonial rule from 1910-1945.
You can share this story on social media: