China closes east seas for fresh round of 'large-scale' military drills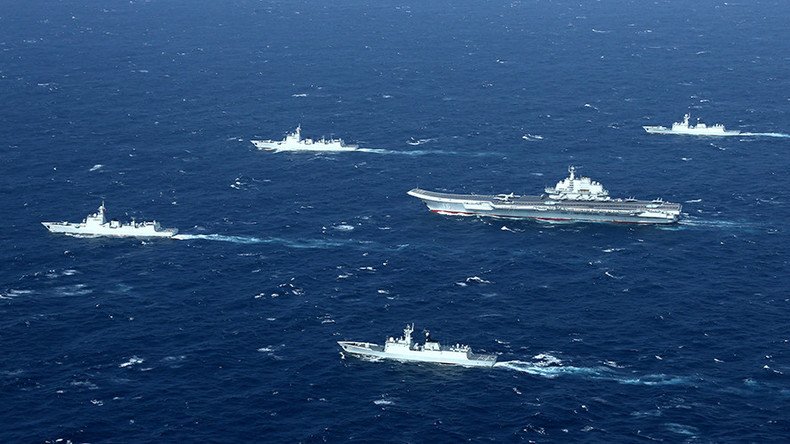 Shortly after wrapping up the initial stage of the first-ever joint Russia-China drills in European waters, Beijing has reportedly blocked out a swath of ocean off the country's east coast for a fresh series of "large-scale" military drills.
"Large-scale military activities" are being held between the eastern port city of Lianyungang, in Jiangsu province, and Qingdao, in Shandong province, home to the navy's North Sea Fleet, AP reported, citing a notice from the government of Lianyungang.
Around 40,000 square kilometers (15,000 square miles) of the Yellow Sea will be off-limits for commercial shipping until Saturday, according to AP.
On Thursday, the Chinese and Russian navies concluded the first stage of joint military drills in the Baltic Sea, code-named 'Joint Sea 2017.'
Two tactical assault groups involving warships from both sides - including the Chinese missile destroyer 'Hefei' and missile frigate 'Yuncheng' - carried out a range of drills, from ship-to-sea firing by secondary guns to maritime search and rescue.
The goal was first and foremost to boost the "ability to cope with maritime threats and coordinate joint actions," Xinhua news agency reported.
In early July, Chinese warships led by Beijing's first aircraft carrier, the Liaoning, held trans-regional training exercises amid mounting tensions with Washington in the South China Sea. The drills took place after the USS Stethem, a US guided-missile destroyer, sailed near a disputed island in the area. China sent military vessels and warplanes to "warn off" the vessel.
On Thursday, the commander of the US Navy's Pacific Fleet, Admiral Scott Swift, said he would obey a hypothetical order to launch a nuclear strike against Beijing if President Donald Trump chose to give such an order.
"The answer would be: yes," Swift said when asked if he would initiate a nuclear strike against China on Trump's orders "next week." The comment was made while Swift was speaking at an Australian National University security conference, AP reported.
Swift's remark came after the director of the CIA's recent assessment that China poses a major threat to the US.
You can share this story on social media: