Chinese Navy holds live-fire training in Mediterranean en route to joint drills with Russia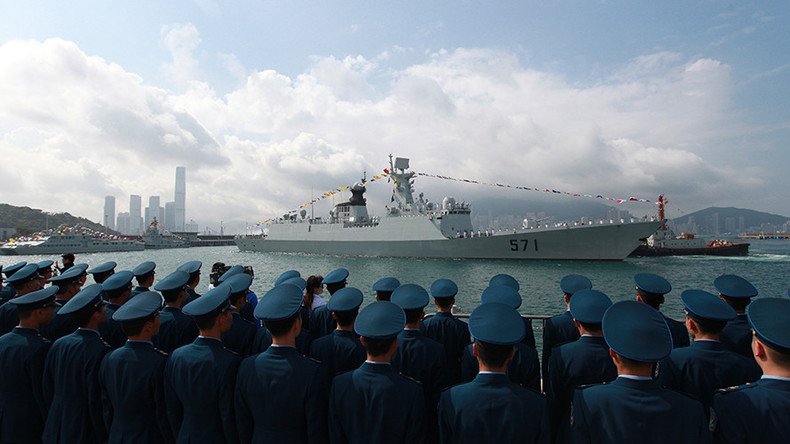 A Chinese fleet comprising warships that are "the best class of their category" has staged live-fire drills in the Mediterranean, according to the Chinese military. The contingent is now heading to Russia's Baltic coast for the 'Joint Sea 2017' exercises.
The Chinese armada, which includes the Hefei missile-destroyer and the Yuncheng guided-missile frigate, alongside the Luomahu replenishment ship, conducted the maneuvers in the Mediterranean Sea on Monday, according to a statement from the Navy of the People's Liberation Army (PLA).
The warships "fired several rounds at sea targets" during the exercises, while the crew "used small arms to hit nearby targets."
"The operation was aimed at honing crew members' skills in attacking small targets," according to a statement from the country's Defense Ministry, which cited the captain of the Hefei destroyer, Zhao Yanquan.
"All of them [the warships] belong to the South Sea Fleet and are said to be the best class of their category," the military stated.
The Chinese flotilla set off from China's Hainan Province on Sunday to take part in the "Joint Sea 2017" drills with Russia. The first part of the exercises is to take place in the Baltic Sea off the Russian cities of St. Petersburg and Kaliningrad in late July. The second stage of the drills will be held in the Sea of Japan and Okhotsk in September. The exercises are aimed at "improving coordination between the two navies on joint defense operations at sea."
On Tuesday, China sent ships carrying military personnel to set up the country's first overseas military base in the Horn of Africa, located in Djibouti.
In early July, Chinese warships led by Beijing's first aircraft carrier, the Liaoning, conducted trans-regional training exercises amid fierce tensions with the US in the South China Sea, after a US guided-missile destroyer sailed near a disputed island in the area.
The South China Sea has become a bone of contention between Beijing and Washington and its allies in the region, as China claims almost all of the waters in the area and has been expanding its military presence there.
Last week, long-range, supersonic US bombers flew over the disputed waterway, provoking sharp condemnation from Beijing.
You can share this story on social media: