Chinese aircraft carrier conducts naval drills amid regional tensions (VIDEOS)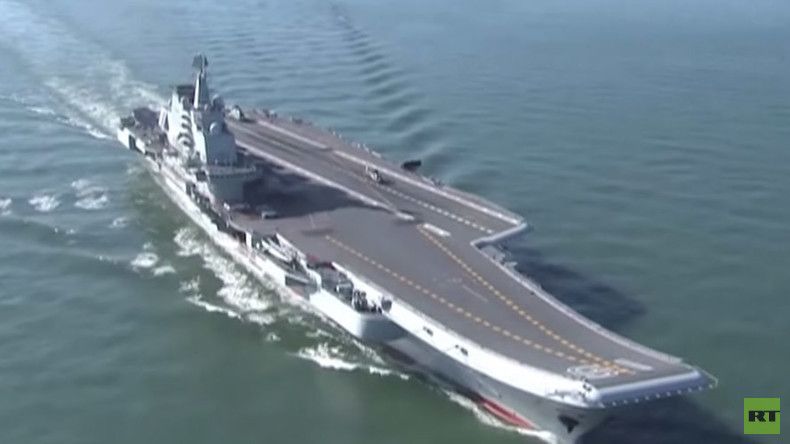 A flotilla of Chinese naval ships, lead by Beijing's first aircraft carrier Liaoning, has been conducting trans-regional training exercises having set sail from Qingdao on June 25 amid heightened tensions with the US in the South China Sea.
The armada, which includes smaller destroyer ships Jinan and Yinchuan, the frigate Yantai and a squadron of J-15 fighter jets and helicopters has been on a training mission designed to cement coordination between the vessels while simultaneously improving the skills of the crew and pilots in a variety of marine environments.
The drills are taking place amid heightened tensions in the region. On Sunday, China sent military vessels and warplanes to "warn off" the USS Stethem, a guided-missile destroyer that sailed near a disputed island in the South China Sea, according to Chinese Foreign Ministry spokesperson Lu Kang.
"China dispatched military vessels and fighter planes in response to warn off the US vessel," Kang said in a statement.
China recently unveiled its first domestically-built aircraft carrier, expanding its fleet of such vessels to two.
The new carrier is slightly larger than the Liaoning – China's first aircraft carrier which was constructed by the Soviet Union as a Kuznetsov-class aircraft carrier and refitted by the Chinese.
The new, as of yet unnamed carrier, weighs 70,000 tons and is 315 meters long and 75 meters wide. It is not expected to fully enter service until 2020, as it will reportedly take years to install all the equipment and conduct the necessary tests and trials.
READ MORE: China launches its 1st domestically-built aircraft carrier (VIDEOS)