China launches its 1st domestically-built aircraft carrier (VIDEOS)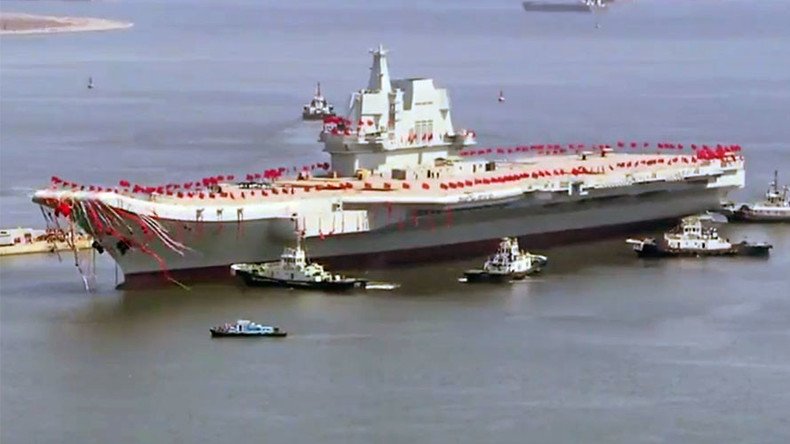 China has transferred its first indigenously built aircraft carrier into the water, expanding its fleet to two such vessels. The ceremony, held amid heightened tensions in the region, almost coincided with the US deployment of THAAD anti-missile system in South Korea.
The new carrier, which name is yet to be revealed, was launched on Wednesday morning in northeast China's Dalian shipyard in Liaoning Province, Xinhua reported.
The pride of China's naval engineering was transferred from dry dock into the water at a launch ceremony that started at about 9am at the Dalian shipyard of the China Shipbuilding Industry Corp, the news agency noted.
The new carrier is slightly larger than the Liaoning, China's first aircraft carrier, constructed by the Soviet Union as a Kuznetsov-class aircraft carrier and refitted by the Chinese. The new carrier weighs 70,000 tons and is 315 meters long and 75 meters wide, South China Morning Post reported.
The carrier, however, is not expected to fully enter service until 2020, as it will reportedly take years to install all the equipment and conduct the necessary tests and trials.
The launch of the new vessel which has been referred to as CV-17 comes amid renewed tensions between North Korea and the United States in the region amid Pyongyang's nuclear and missile programs.
Photos of the new vessel indicate that the ship has a ski jump and angled flight deck. Earlier reports also suggested that the ship's hangars were built large enough to accommodate between 28 to 36 aircraft onboard.
Six tugboats tow China's first domestically built aircraft carrier out from its shipyard at Dalian Port, NE China's Liaoning (Photo: Ma Jun) pic.twitter.com/6zWccs98dc

— Global Times (@globaltimesnews) 26 апреля 2017 г.
The new ship was rolled out on the same day that the US Army began installing the Terminal High Altitude Area Defense (THAAD) system onto a golf course in Seongju, South Korea, as a response to the North Korean threat.
READ MORE: US THAAD anti-missile deployment in S. Korea sparks clashes between locals & police (PHOTOS, VIDEO)
Beijing has repeatedly spoken out against THAAD over fears that it will undermine its own deterrence capabilities, and previously urged Seoul and Washington to reconsider their plans.
You can share this story on social media: