US mulls sending arms to Kiev, doesn't view move as 'provocative' – US special envoy to Ukraine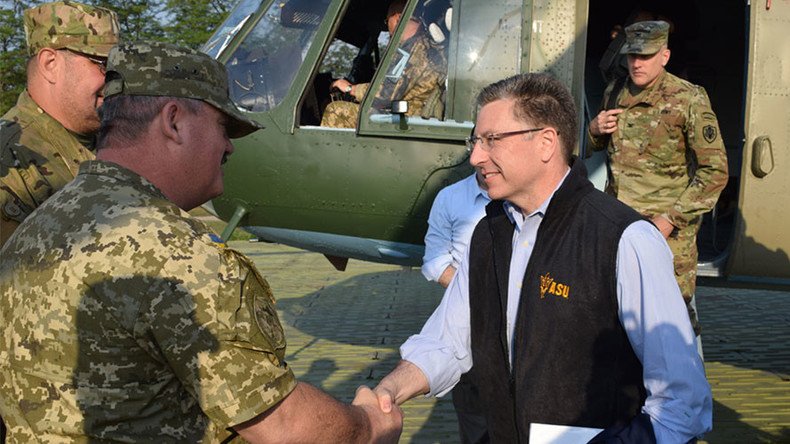 Washington is considering sending "defensive" weapons to Ukraine, US special representative Kurt Volker says. He insists the potential move, long desired by Kiev, would not be "provocative." It comes as Moscow warns against fueling Ukraine's civil war.
In an interview with the BBC on Tuesday, Volker, who was appointed by Secretary of State Rex Tillerson as the US special representative for Ukraine negotiations in July, said that US authorities are pondering whether to ship armaments to Kiev.
Noting that the discussion is currently focused on "defensive weapons, ones that would allow Ukraine to defend itself and to take out tanks, for example," Volker argued that such supplies "would actually to help [sic]" Kiev fend off alleged encroachments from Moscow.
Volker fell short of providing any indication of when such a deal could be reached between Washington and Kiev, saying that he is "not again predicting where we go on this."
However, he claimed that despite the unresolved conflict in eastern Ukraine, Washington does not view such a move as "provocative."
"I think that argument that it would be provocative to Russia or emboldening of Ukraine is just getting it backwards," Volker told the BBC, adding that the US believes a "new strategic dialogue" with Moscow is needed to resolve the Ukrainian conflict, which has recently seen a spike in violence.
Volker, who is a former adviser to US Senator John McCain and a former US ambassador to NATO, previously described the conflict between Donbass rebels and Kiev as a "hot war" and an "immediate crisis," as opposed to a frozen conflict. Volker visited Ukraine on Sunday, offering comments on camera and posing with Ukrainian servicemen before driving off in an armored vehicle.
Ukraine's President Petro Poroshenko said in June that Kiev had almost worked out an agreement with Washington on defensive weapons. Hailing the progress reached on "defensive agreements" with the US, the Ukrainian leader claimed the parties "have an almost consensual text of the agreement [about the arms supplies]." Poroshenko voiced hope that the deals would be finalized within the present fiscal year.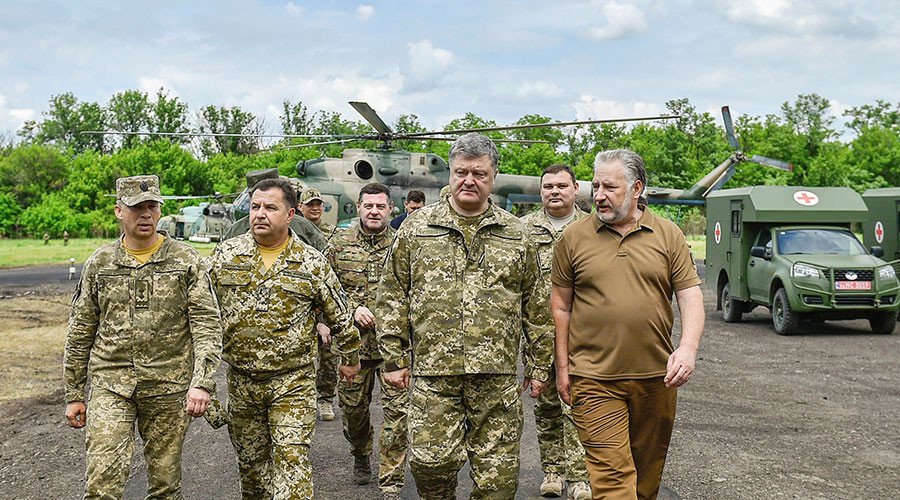 Poroshenko's assurances came on the heels of his meeting with US President Donald Trump, Defense Secretary James Mattis, and other senior US officials during a visit to Washington in June. Poroshenko said he discussed the issue with Tillerson, adding that the agreement could be signed once Mattis arrives in Ukraine.
While no official date for the visit has been announced, the Ukrainian ambassador to the US, Valery Chaly, said in June that Kiev had invited Mattis, Tillerson, and US Secretary of Energy Rick Perry to visit Ukraine before the end of the year. Tillerson visited Ukraine earlier this month.
Last week, fighting in Donbass that had seemingly subsided in recent months again intensified, claiming at least 12 lives. The surge in violence sparked concern among observers and mediators of the Minsk agreements and was addressed during a telephone conversation between the leaders of Russia, Ukraine, France, and Germany - known as the 'Normandy Four' - on Monday.
While negotiations surrounding weapons supplies to Ukraine currently appear to concern only "defensive" weapons, Ukrainian authorities have repeatedly said they are eager to receive "lethal" arms from the US.
READ MORE: Stop inventing fictional threats from Russia – Putin to Le Figaro
Russia has warned Washington against fueling the civil conflict in Ukraine by sending lethal weapons to Kiev.
"We have repeatedly said that any actions provoking tensions on the disengagement line [in eastern Ukraine] and in general further aggravating the already difficult situation [in the region], will only distance us from the moment of settling this domestic Ukrainian issue," Vladimir Putin's spokesman, Dmitry Peskov, told reporters.
Last week, Ukraine's defense minister, Stepan Poltorak, reiterated that Kiev is waiting for Washington to greenlight the transfer of lethal arms to Ukraine, as proposed by the US Senate Armed Services Committee in June.
Following the proposal, an unnamed US State Department official told RIA Novosti that the US has not yet made up its mind on whether to supply lethal arms to Kiev.
READ MORE: $700bn Pentagon bill funds US presence in E. Europe & weapons for Ukraine
You can share this story on social media: