French protesters build wall around former hotel set to become migrant shelter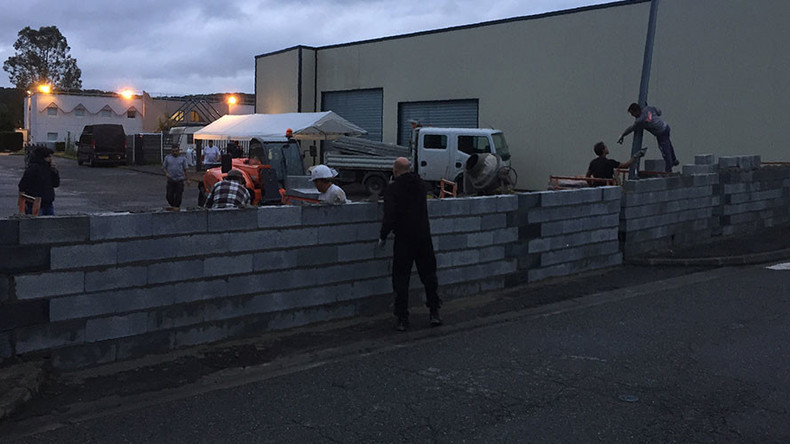 Angry residents in a French town have built a wall around the entrance of a former hotel which is slated to become a migrant center, accusing the government of failing to consult citizens over the plan.
A few dozen protesters in the town of Semeac, southwest France, built the wall around the disused Formule 1 hotel overnight, AFP reported. The wall measures 18 meters (60ft) long and 1.8 meters high (5.9ft).
"We are not against taking in migrants," Laurent Teixeira, a spokesman for the protesters, told AFP. "But you have to take account of the citizens."
He accused authorities of failing to consult residents about the plan to turn the former hotel into a shelter for up to 85 migrants.
"Nothing is planned for the migrants' daily life," he said, adding that schools and other public services in the small town will be unable to cope with the new arrivals.
Another protester by the name of Hugo Lacoue, who works as a tobacconist, said he was against migrants being hosted in a suburban neighborhood.
The hotel in Semeac, a town of 5,000 people, is one of 62 budget hotels bought by France in order to house asylum seekers currently sleeping rough on the streets of Paris and Calais.
Paris saw an influx of migrants following the closure of the so-called 'Jungle' migrant camp in Calais in October 2016, with one local woman telling RT that the French capital had drastically changed as a result.
"It's true that I haven't recognized this district the last year, and it's shocking to exit the metro and be confronted with it all the time," the woman told RT just days after the Calais camp's closure.
Earlier this month, authorities in the French capital evacuated up to 2,500 migrants from a makeshift camp near a local refugee center, which they set up due to overflow at the facility.
READ MORE: Up to 2,500 migrants evacuated from La Chapelle makeshift camp in Paris (PHOTOS)
In May, more than 1,600 were evacuated from the settlements around Porte de la Chapelle.
Meanwhile, a poll released earlier this month found that most French people believe there are "too many foreigners," stating they "don't feel at home" anymore.
READ MORE: Most French think there are 'too many foreigners,' say 'they don't feel at home' anymore – poll
A total of 85,000 people applied for asylum in France last year, although that number does not include undocumented migrants. Most of the applications came from citizens of Sudan, Afghanistan, Haiti and Albania. Nearly two-thirds of the applications were rejected.